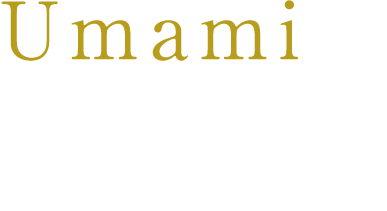 A great variety of fresh food ingredients is available in Japan, with its regional diversity, clearly differentiated seasons and fertile soil. Washoku, Japanese cuisine, has a tradition of cherishing each season. With umami, chefs bring out the flavors of those seasonal ingredients. Keeping to tradition, they devote themselves to innovation. Please enjoy their umami dishes.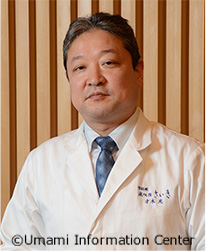 the owner chef of
Kyo-ryori Jikishinbo Saiki

<Profile>
Mitsuru SAIKI, the owner and chef of Jikishinbo Saiki, was born in Kyoto in 1968. He graduated from the Department of Political Science of the Faculty of Law at Doshisha University. Before working at his own restaurant, he apprenticed himself to Hitoshi MURAKAMI, who received the best modern artisan award. He acceded to the third-generation owner in 1999 and moved the restaurant to Shimogawara, near Gion in Kyoto. While actively working as the owner and chef, he got a master's degree in agriculture from Kyoto University in 2009. He pursues the secret of deliciousness, seeking "what deliciousness is and how to develop tastier cuisine," and he works very hard every day. He provides information from the standpoint of reviewing washoku scientifically at KYOTO SNT LAB. (http://snt.kyoto/) (Japanese)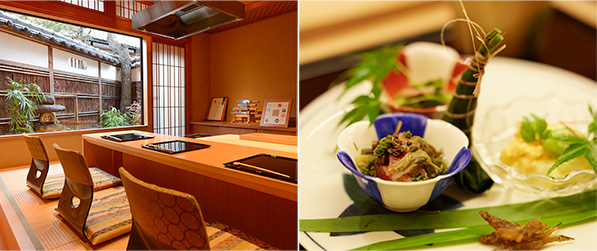 <Store information>
Jikishinbo Saiki
Jikishinbo Saiki is located in the Gion area, full of the atmosphere of Kyoto, an ancient and historical Japanese city. The owner moved from the north of Kyoto city in October 2009. You can taste delicious and fresh dishes in season in a gentle and quiet environment.
Restaurant Website (Japanese)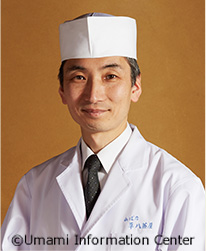 the young owner of
Yamabana Heihachi-Jaya

<Profile>
Shingo SONOBE, the young 21st owner of Yamabana Heihachi-Jaya, was born in Kyoto in 1970. He graduated from university, trained at a Japanese restaurant for three years and then took over his family's restaurant. Now while he works as manager and chef at his restaurant, he chairs the Food Education Curriculum of the Japanese Culinary Academy. He engages in various committees such as Kyoto Ryori Mebaekae Kai, a committee to Promote Food Education Curriculums to Learn About Japanese Cuisine, as director. Through his profession, he devotes himself to food education for children. He also works hard to improve culinary knowledge and skills and received a prize for excellent young craft workers from Kyoto City in 2006.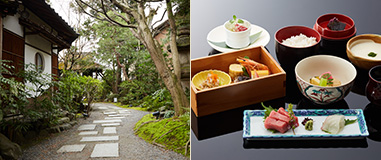 <Store information>
Yamabana Heihachi-Jaya ーEstablished in Tensho era, in the end of 16th century. ー
Heihachi Tea House Inn, established in 1576, is located along the Takano River overlooking Mt.Hiei in the East.
In its Japanese garden you can enjoy cherry blossoms in Spring and colorful leaves of maple trees in Autumn.
At the entrance of Heihachi Tea House Inn stands four-hundred-year old Kigyumon Gate,which was transferred from a Zen Buddhist temple.
The waitresses, dressed in the same style as in old days, welcome you at the gate.