>
>
>
Chicken Breast Sautee with Anchovy Butter Source


Umami in the chicken and anchovy sauce add style to the dish.
It is filling enough for the main course and can be served hot or cold.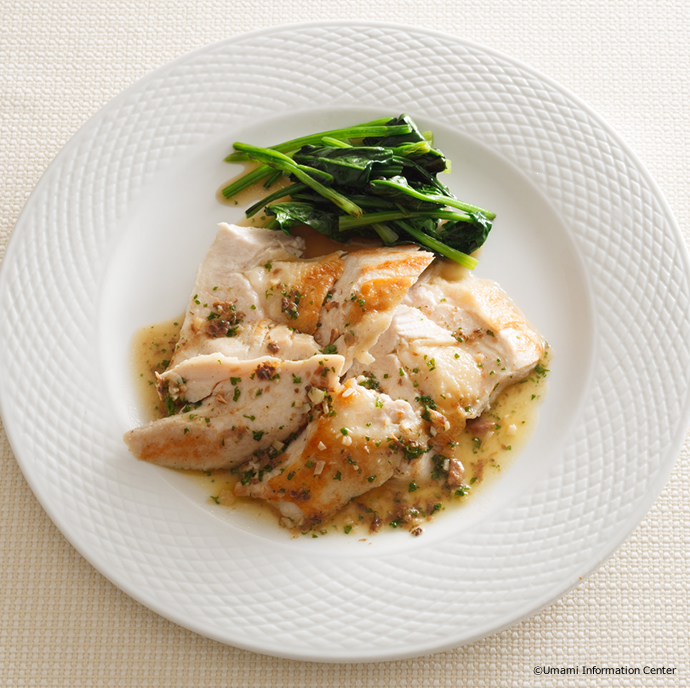 Umami Score of Main Ingredients in the Recipe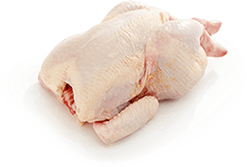 Chicken
Glutamate : 20?50mg/100g
Inosinate : 150?230mg/100g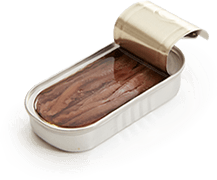 Anchovies
Glutcamate : 630mg/100g
Chicken is rich in umami substance; glutamate and inosinate, anchovy is rich in glutamate. Pairing of these two ingredients provides umami synergy and makes dish tasty.

Cooking time : 20 minutes
Calorific Value : 580 kcal
■ Ingredients( for 2 persons )
・1 chicken breast
(approximately 300g)
・1 tbsp olive oil
・1 tbsp butter (salted)
・1/4 tbsp chopped garlic
・2 fillets anchovies
・5 tbsp white wine
・1/2 cup (100ml) chicken bouillon*   

*1/3 consomme cube for
100ml water

・1/4 tbsp lemon juice
・1/2 tbsp chopped parsley
・salt and pepper to taste
■ Recipes
1.

Season the chicken breast with salt and pepper. Chop the anchovies.

2.

Heat olive oil to medium heat in a frying pan and put the chicken breast skin-side down. Sear the chicken on both sides until golden brown. Add the white wine and cover until the chicken is done. Arrange on a plate.

3.

Wipe off the excess fat from the pan, add butter and garlic. Cook until there is a smell sweet, then add the anchovy and white wine. Burn off the alcohol, add chicken bouillon, lemon juice and parsley. Season with salt and pepper.

4.

Sprinkle the sauce from 3 on the chicken from 2.