>
>
>
UMAMI-RICH RICE WITH SCALLOP AND CHOPPED GREEN VEGETABLES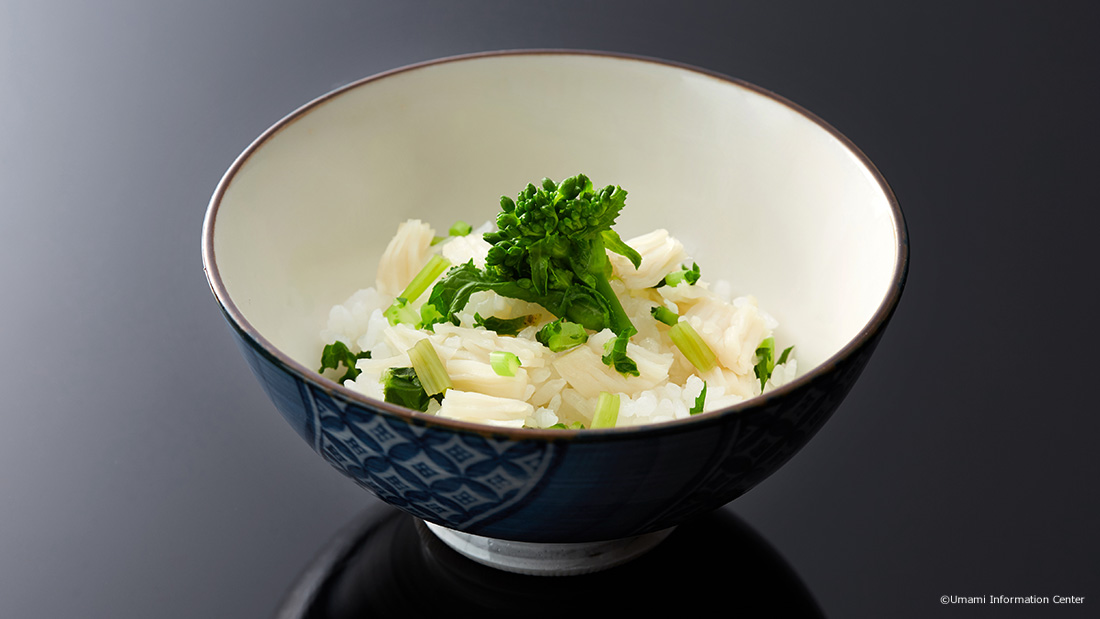 ■ Ingredients( for 4 persons )
・2 cups cooking rice
・2 scallops
・5 nanohana, Chinese colza
・30g seri, Java water dropwort
・20g daikon radish leaves
・1 tsp and a little over of salt
・1 tbsp Japanese sake
・5g kombu
・Ichiban dashi
・Light soy sauce
■ Recipes
1.

Wash rice one hour before cooking and let the water drain off in a strainer.
Cover it with a wet cloth.

2.

Boil nanohana, seri and daikon radish leaves. Chop them coarsely. Marinate them in a
mixture of dashi and light soy sauce (dashi : light soy sauce ? 10:1)

3.

Cut scallop into rod shapes.

4.

Put rice (

1

) into a rice cooker. Adjust amount of cooking water and salt to taste.
Mix it well and add kombu, scallop and a little sake. Cook.

5.

When the rice has cooked, squeeze water from

2

well and mix with

4.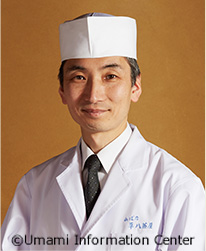 the young owner of
Yamabana Heihachi-Jaya

<Profile>
Shingo SONOBE, the young 21st owner of Yamabana Heihachi-Jaya, was born in Kyoto in 1970. He graduated from university, trained at a Japanese restaurant for three years and then took over his family's restaurant. Now while he works as manager and chef at his restaurant, he chairs the Food Education Curriculum of the Japanese Culinary Academy. He engages in various committees such as Kyoto Ryori Mebaekae Kai, a committee to Promote Food Education Curriculums to Learn About Japanese Cuisine, as director. Through his profession, he devotes himself to food education for children. He also works hard to improve culinary knowledge and skills and received a prize for excellent young craft workers from Kyoto City in 2006.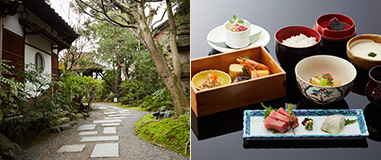 <Store information>
Yamabana Heihachi-Jaya ーEstablished in Tensho era, in the end of 16th century. ー
Heihachi Tea House Inn, established in 1576, is located along the Takano River overlooking Mt.Hiei in the East.
In its Japanese garden you can enjoy cherry blossoms in Spring and colorful leaves of maple trees in Autumn.
At the entrance of Heihachi Tea House Inn stands four-hundred-year old Kigyumon Gate,which was transferred from a Zen Buddhist temple.
The waitresses, dressed in the same style as in old days, welcome you at the gate.