>
>
>
JAPANESE STYLE REI-MEN, COLD NOODLES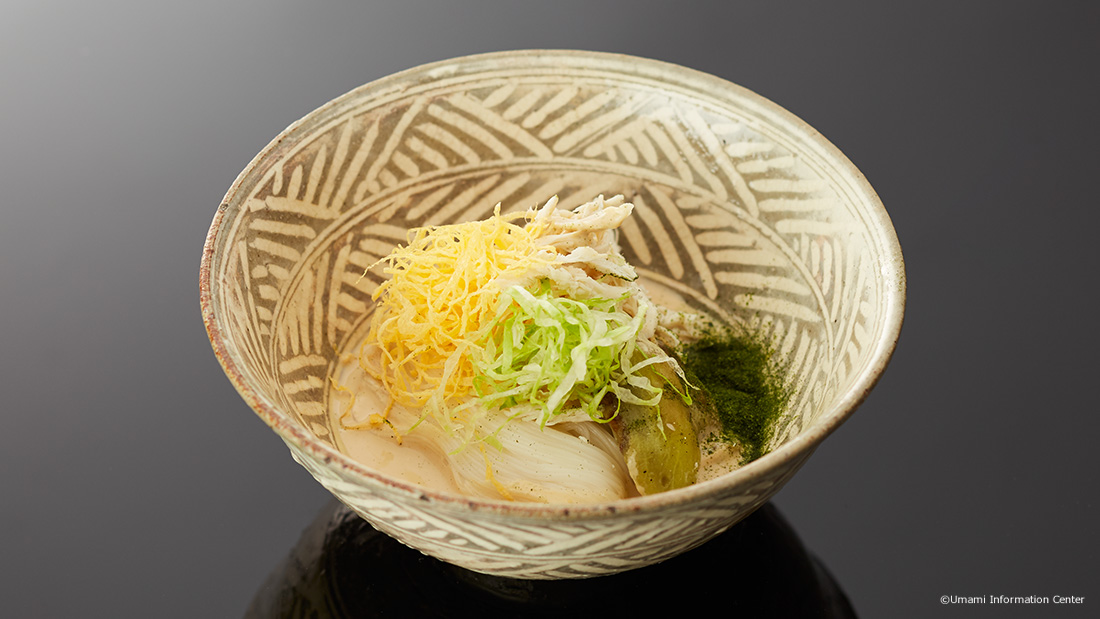 ■ Ingredients( for 4 persons )
・200g somen noodle
・Thin omelet cut into narrow strips
1 egg
1/5 tsp salt
Vegetable oil
・Steamed chicken breast with sake
2 white breast chicken meat
(80g)
1 tbsp sake
・Grilled eggplant
1 eggplant (70g)
100cc dashi
1/2 tsp light soy sauce
・1/4 pcs lettuce (50g)
・Sesame oil
・Mixed seasoning
70g sesame paste
100cc ponzu (a bitter or sour orange-based sauce)
2 2/3 tbsp sugar
1 tsp tobanjan
100cc dashi
・Aonori as you like
■ Recipes
1.

Prepare omelet
Scramble eggs and salt them well. Put oil in a pan and make a thin omelet.
Cut it into thin strips.

2.

Prepare grilled eggplant.
Grill eggplant with the skin on in a grill or on a toasting net at a low or medium heat for about 10 minutes.

3.

Prepare mixed seasoning
Put tobanjan and sesame paste in a bowl. Mix them well and add dashi to dissolve them.
Add sugar and ponzu. Keep it cool.

4.

Prepare steamed chicken
Trim sinew off a chicken sasami breast. Put it on a heat-resistant vatutensil or vat.
Sprinkle on sake and steam it. Cool it down, and then tear it off in strips.

5.

Cut the lettuce into thin pieces.

6.

Boil somen noodles. Soak them in icy water to remove the sliminess.
Add sesame oil and mix slightly to emulsify them.

7.

Put somen noodles and other toppings in a bowl. Add mixed seasoning.
Sprinkle aonori as you like.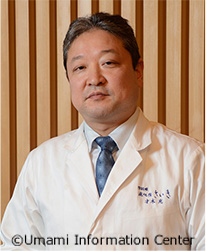 the owner chef of
Kyo-ryori Jikishinbo Saiki

<Profile>
Mitsuru SAIKI, the owner and chef of Jikishinbo Saiki, was born in Kyoto in 1968. He graduated from the Department of Political Science of the Faculty of Law at Doshisha University. Before working at his own restaurant, he apprenticed himself to Hitoshi MURAKAMI, who received the best modern artisan award. He acceded to the third-generation owner in 1999 and moved the restaurant to Shimogawara, near Gion in Kyoto. While actively working as the owner and chef, he got a master's degree in agriculture from Kyoto University in 2009. He pursues the secret of deliciousness, seeking "what deliciousness is and how to develop tastier cuisine," and he works very hard every day. He provides information from the standpoint of reviewing washoku scientifically at KYOTO SNT LAB. (http://snt.kyoto/) (Japanese)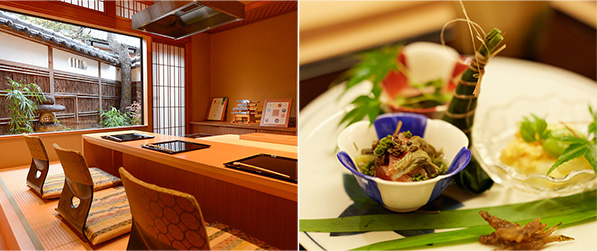 <Store information>
Jikishinbo Saiki
Jikishinbo Saiki is located in the Gion area, full of the atmosphere of Kyoto, an ancient and historical Japanese city. The owner moved from the north of Kyoto city in October 2009. You can taste delicious and fresh dishes in season in a gentle and quiet environment.
Restaurant Website (Japanese)