>
>
>
HAMO NOPPEI-JIRU STYLE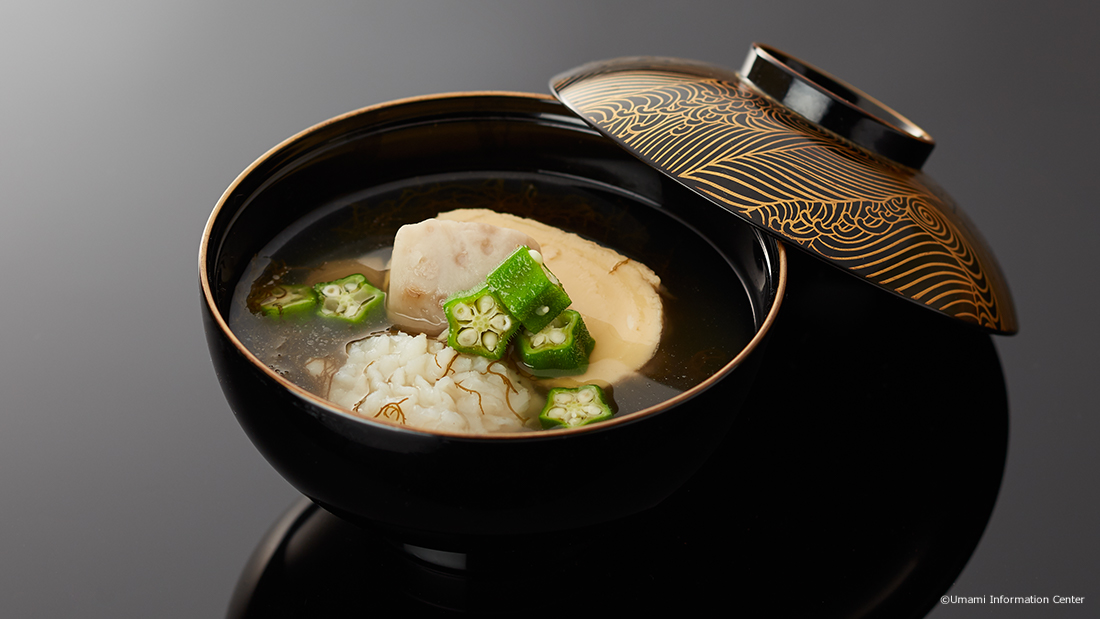 ■ Ingredients( for 4 persons )
・80g pike conger
・80g Japanese omelette,
dashimaki tamago
3 eggs (M size 58~64g each)
3 tbsp dashi
1 tsp mirin
1/2 tsp light soy sauce
・4 taro, sato-imo
(small 40 ~50 each)
・40g mozuku, seaweed
・800cc ichiban dashi
・1/4 tsp salt
・1/2 tsp llight soy sauce
・1 ginger (12g)
■ Recipes
1.

Cut open a hamo and cut it up finely. (Cut up the small bones near the skin into 4~5mm widths.)Quarter it.

2.

Boil taro in hot water for about three minutes. Peel skin and cut into bite sizes.
(Do not wash the sliminess off the taro.)

3.

Make an omelette, dashimaki tamago.
Beat the eggs well and add dashi, mirin and light soy sauce.
Put a little oil in a pan, put in 2/3 quantity of the solution and cook.
Add the rest and do the same. Cool down and cut into 4 pieces.

4.

Cut mozuku into fine pieces.

5.

Okura: Sprinkle on a pinch of salt and rub it on a cutting board.
Boil it quickly for 10 seconds. Cut it into 2cm lengths.

6.

Put dashi, salt and light soy sauce in a pan and add the omelette and taro.
Cook under low heat.

7.

Take the omelet out before boiling. Upon boiling, add hamo.

8.

Once almost cooked, take the hamo out and put in mozuku, okura and grated ginger. Season.

9.

Put the hamo and omelet in a soup bowl (wan) and add soup with taro and okura.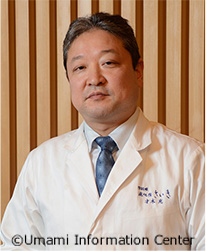 the owner chef of
Kyo-ryori Jikishinbo Saiki

<Profile>
Mitsuru SAIKI, the owner and chef of Jikishinbo Saiki, was born in Kyoto in 1968. He graduated from the Department of Political Science of the Faculty of Law at Doshisha University. Before working at his own restaurant, he apprenticed himself to Hitoshi MURAKAMI, who received the best modern artisan award. He acceded to the third-generation owner in 1999 and moved the restaurant to Shimogawara, near Gion in Kyoto. While actively working as the owner and chef, he got a master's degree in agriculture from Kyoto University in 2009. He pursues the secret of deliciousness, seeking "what deliciousness is and how to develop tastier cuisine," and he works very hard every day. He provides information from the standpoint of reviewing washoku scientifically at KYOTO SNT LAB. (http://snt.kyoto/) (Japanese)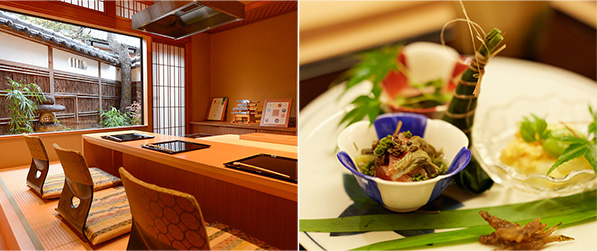 <Store information>
Jikishinbo Saiki
Jikishinbo Saiki is located in the Gion area, full of the atmosphere of Kyoto, an ancient and historical Japanese city. The owner moved from the north of Kyoto city in October 2009. You can taste delicious and fresh dishes in season in a gentle and quiet environment.
Restaurant Website (Japanese)