The Webinar - UMAMI in Japanese's Food Culture
February 2021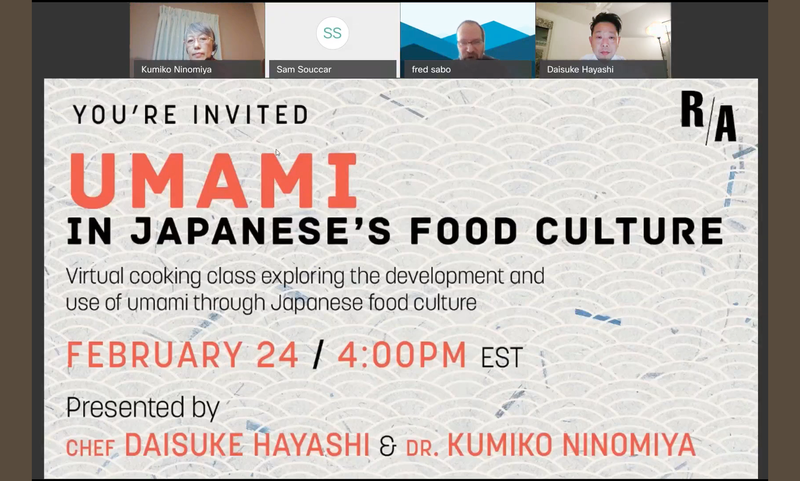 The Umami Information Center (UIC) presented a webinar to the chefs of Restaurant Associates, a leading U.S. foodservice company, on February 24, 2021.
This webinar, titled "UMAMI in Japanese Culture – Virtual cooking class exploring the development and use of Umami through Japanese food culture " was held online with live coverage from New York, London, and Tokyo.
Dr. Kumiko Ninomiya, a director of the Umami Information Center, and Chef Daisuke Hayashi, the owner of Roketsu - a Japanese restaurant in London, provide chefs with an informative lecture respectively. Chef Daisuke Hayashi has been working with UIC since 2008 to educate young chefs who are working in Japanese restaurants in Japan and London.
Dr. Ninomiya gave a scientific explanation of umami and introduced how chefs around the world use it, followed by Chef Hayashi who talked about specific cooking techniques to use umami in washoku.
About 125 people from all over US participated in this 1-hour event. There were questions such as "Is there the same umami flavor from Parmesan in some other French cheeses?", "Is there a list of high umami food in grocery items for the home cook?" and "Can umami be adjusted to be paired with the specific type of wines".
The two speakers answered them in a discussion style with the moderator Mr. Fred Sabo and Mr. Sam Souccar of Restaurant Associates.