The webinar "How to use umami for a delicious, enjoyable, and delightful dietary life"
March 2021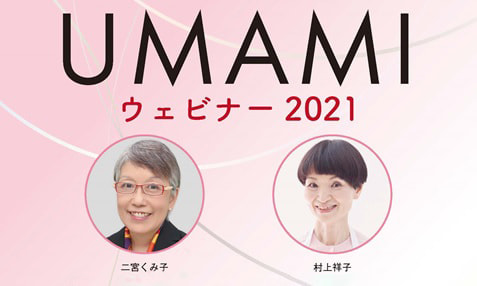 To lead a healthy life in the age of "100-year life," it is important to maintain the "physical strength to eat" even as we grow old. So, what can we do to maintain the strength to eat? Are there any hints on the nursing meal for the elderlies with less leftover?
The Umami Information Center (UIC) held a webinar titled "How to use umami for a delicious, enjoyable, and delightful dietary life," on March 19, 2021, with the support of the Japan Dietetic Association*.
The webinar was led by Dr. Kumiko Ninomiya, a director of UIC, and Ms. Sachiko Murakami, a guest professor of Fukuoka Women's University, the International College of Arts and Sciences.
Ms. Murakami also works as a dietitian and is known as a famous cooking specialist for long years.
It was the first time for UIC to hold a webinar in collaboration with the Japan Dietetic Association. However, the announcement in the association's magazine attracted attention of many people and more than 200 people registered the webinar.
On the day of the event, 170 people, mainly dietitians working at hospitals, schools, and companies, attended the webinar.
Dr. Ninomiya gave a lecture titled "Umami for delicious and healthy dietary life!", in which she introduced umami basics and how chefs around the world use umami in their cooking after they realized the benefits of umami. She also explained the latest information on the close relationship between koku and umami substances.
Ms. Sachiko Murakami gave a lecture on the theme of "Umami and the strength to eat: Eating in the age of the 100-year life. Based on her wide experiences, she explained about the importance of eating properly.
She said "You need the power to live in the 100-year life days. If you want to live your life as who you are, you should eat properly." She mentioned ideas of nursing meal using umami. She also introduced the recipes of simple soup stock and side dishes using the microwave.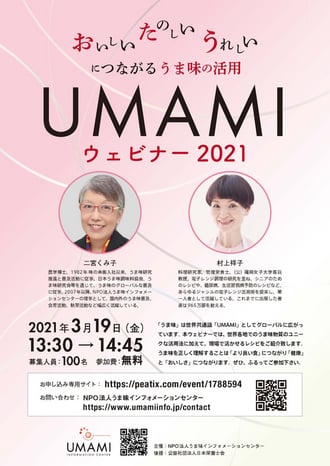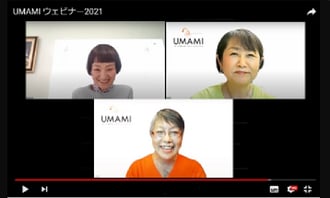 We got a lot of positive feedback from the participants.
"I was surprised to learn that aged-beef and anchovies do not contain inosinate.", "I understand that the use of umami is connected to the happy life. I am sure that umami is our ally in the age of 100-year life."
*The Umami Information Center is a supporting member of The Japan Dietetic Association.