Umami classes for junior high students
December 2021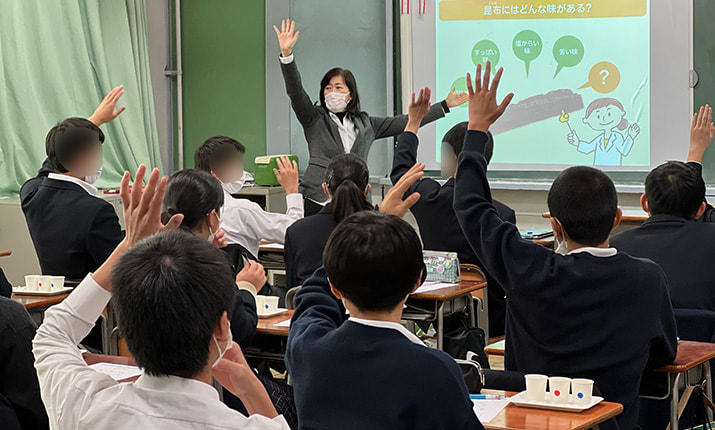 Dietary education for growing youth is very important for healthy eating habits throughout their lives. The Umami Information Center (UIC) supports it with the classes on umami.
In September and December 2021, UIC held the six umami classes titled "Deliciousness and Umami" at two junior high schools in Tokyo, for a total of 200 first and second graders.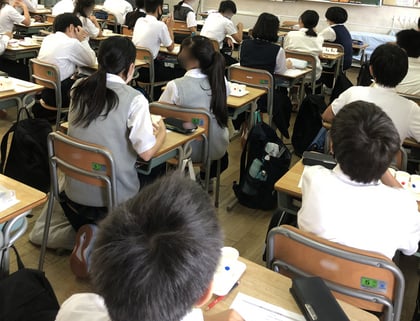 Dr. Kumiko Ninomiya, a consultant of UIC, and Ms. Akiko Sawa, a director of UIC, served as lecturers. The students experienced umami by tasting small pieces of kombu, then carefully tasted miso paste dissolved in hot water mixed with soup stock to experience how the taste changed by adding the soup stock. Through this experiment, the students learned about the mechanism of taste perception and the five basic tastes, including umami.
After the classes, various questions and comments were raised such as "Is there any food that has no umami at all? *" and "I will look for umami in today's dinner."

*Umami is a common taste that exists in many foods. However, some seasonings have only one taste. For example, sugar and honey have a sweet taste, salt has a salty taste, vinegar has a sour taste.
UIC hopes that the class will help the students become more interested in umami in daily diet.