If you would like to know more about the umami, the UMAMI Information Center can recommend a number of publications. These publications cover the history and discovery of umami and introduce umami recipes. For more information on these publications, please contact from the、/ contact /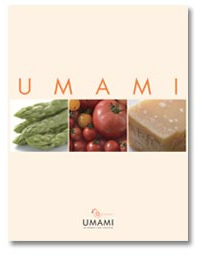 UMAMI leaflet (English version)
Size H297 x W206mm
Click here
Sample Download (808KB)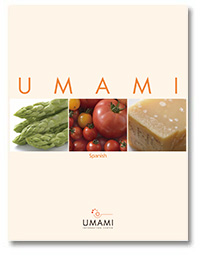 UMAMI leaflet (Spanish version)
Size H297 x W206mm
Click here
Sample Download (2.4MB)
UMAMI leaflet (English / Spanish)
New UMAMI leaflet offers a comprehensive and updated knowledge on the fifth basic taste, umami with informative figures and beautiful pictures. On this occasion, we revised umami world map which covers a number of umami rich foods around the world. Also in the section of experiencing umami for yourself, you will find a simple method for tasting umami. Newly added section of three properties of umami and its application and FAQs will help your further understanding of the fifth taste. We prepared both in English and in Spanish. Please check the contents.
Contents:  
Umami: critical to delicious cooking
The basic tastes and common corresponding foods/components
Umami and babies
Umami and our bodies
The discovery of umami
What umami tastes like: three prroperties
Where can we find umami?
Umami and aging/fermentation
Traditional foods around the world and umami
Umami Q & A
Umami synergy
Comparing soups the world over
The growing use of umami
Chefs and researchers give their views on umami
Chefs the world over use umami
About the Umami Information Center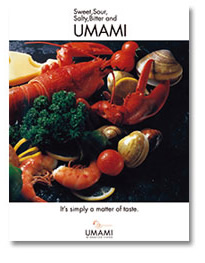 Size H297 x W206mm
Click here
Sample Download (808KB)
Sweet, Sour, Salty, Bitter and UMAMI
Newly updated, this informative guide compiled by the UMAMI Information Center in Tokyo adopts a slightly more scientific approach to umami. Its short, easy-to-read paragraphs will guide you through the history of umami, how, when, and by whom it was identified and defined, as well as recent scientific discoveries about the ways in which glutamate - one of the essential components of umami - is detected by the body, and the implications that this insight has for the study of umami - and of food in general - in the future. This publication provides an extremely useful source of reference for anyone who would like to know more about umami.
20 pages 2008 published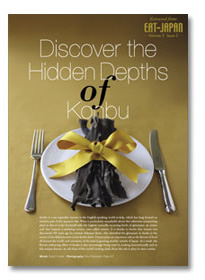 Size H297 x W210mm
Click here
Sample Download (680KB)
Discover the Hidden Depths of Konbu
This handy eight-page brochure invites you to the world of umami and kombu. Presenting special recipes, three well known chefs share their thoughts on umami.
8 pages 2006 published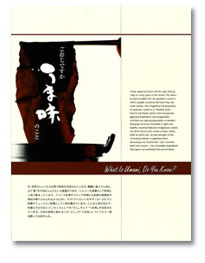 Size H278 x W214mm
Click here
Sample Download (612KB)
Do you know Umami? (Bilingual)
The quaternion leaflet features umami and dashi with a plenty of charts and pictures. Written in bilingual, Japanese and English, this double-faced flyer introduce you umami as indispensable factor in Japanese cuisine.
Quaternion 2008 published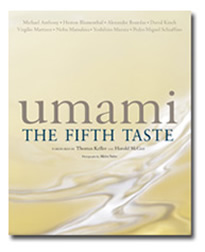 Size H267 x W215mm
Publisher:Japan Publications Trading Co., Ltd.
Project Coordination: Kumiko Ninomiya, Umami Information Center
umami : THE FIFTH TASTE
" UMAMI : THE FIFTH TASTE " is a practical guide to the taste that has transformed world cuisine. It features unique, healthy recipes from top international chefs in a comprehensive volume encompassing all you need to know about umami. WIth forewords by world knownchef: Thomas Keller and food journalist: Harold McGee, all in full color includes 39 recipes from world leading chefs along with their interviews?Michael Anthony, Heston Blumenthal, Alexandre Bourdas, David Kinch, Virgilio Martinez, Nobu Matsuhisa, Yoshihiro Murata and Pedro Miguel Schiaffino. While being an excellent book for learning the history of umami, it contains scientific approach. The scientific section follows by food scientist Dr. John Prescott, Prof. Ole G.Mouritsen. Furthermore, umami dessert recipes by Regis Cursan and Keiko Nagae are featured for the first time in our publication. The Umami Information Center presents the useful information; "Dashi and umami?Basic information and ways to learn more."
be published September 2014160 pages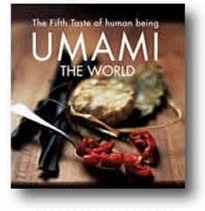 Size H267 x W215mm
Publisher:Japan Publications Trading Co., Ltd.
Project Coordination: Kumiko Ninomiya, Umami Information Center
UMAMI THE WORLD
UMAMI THE WORLD is an invaluable publication, available in English, French, Japanese, Portuguese, Spanish and German, which provides factual information about umami, its history and usage, in an easy-to-read format. This book introduces and explains the use of umami in both Eastern and Western cuisine, giving many varied examples of its sources in nature, as well as similarities and differences in its usage around the world. The reader will surely be surprised to find out just how often umami naturally appears in our everyday diet and how we have all been enjoying it unbeknownst to ourselves!
● English Version 80pages published 2004, revised 2007
● French Version 88pages published 2005
● Spanish Version 80pages published 2007
● Portuguese Version 88pages published 2007
● German Version 88pages published 2008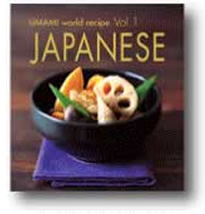 Size H135 x W128mm
Publisher: Cross Media Ltd.
Umami world recipe series Vol.1 JAPANESE
This compact recipe book is the first in a series of publications presenting umami seasoning recipes from all four corners of the globe. The first volume focuses on the world famous cuisine of Japan and provides a wealth of easy to prepare recipes which will leave you the envy of your family and friends. These simple recipes will encourage anyone who has thought about preparing a traditional Japanese dish, but who was too scared to try, to actually have the confidence to get into the kitchen and have a go for themselves! You will be amazed at the simplicity of these recipes, the easy-to-follow instructions and the wonderful results which can be obtained!
48 pages 2004 published.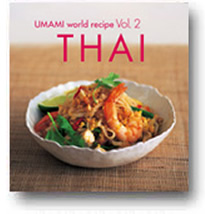 Size H135 x W128mm
Publisher: Cross Media Ltd.
Umami world recipe series Vol. 2 THAI
Volume 2 o f the Umami world recipe series takes you on a journey of taste to the exotic climes of Thailand, introducing you to a wide selection of the country's most delicious dishes, all of which take full advantage of umami to boost flavor. Each recipe provides simple step-by-step instructions, and is lavishly illustrated in full color, to give you a clear idea of what the finished dish should look like.
48 pages 2005 published