Nancy Reyes-Lumen's Chicken and Pork Adobo
August 2020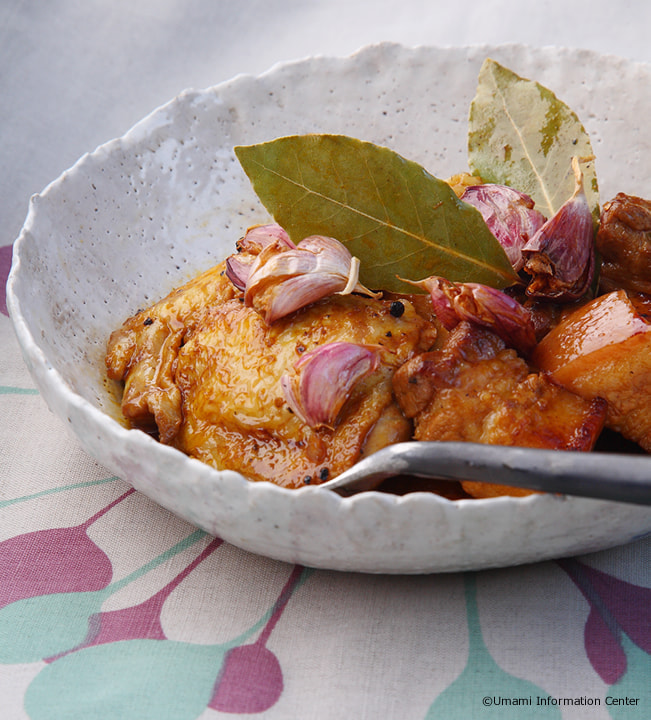 Adobo is deservedly the most popular dish in the Philippines, and it has become Nancy's personal crusade to promote adobo throughout the world as cuisine well representative of Filipino flavour. Traditionally accompanied by sweet pickled green papaya called "atsara" and white rice, adobo is a great example of the "saucy comfort foods" that make up so much of the Filipino menu. Always slightly sour, due to being cooked in vinegar, the umami of adobo can be enhanced by adding extra soy sauce or coconut milk.
"The Philippines is a nation of 100% certified foodies, and Filipino cuisine certainly "rocks" in umami - so it's no wonder that our dishes are so delicious. According to the highly respected Filipino novelist/writer Nick Joaquin, As the highly respected Filipino novelist/writer Nick Joaquin has said, "We have developed a fish and rice-based cuisine, eating fish with fish condiments, flavouring our fish dishes with fish - when we dip fish into patis, our ubiquitous condiment made from fermented prawns and small fish, we're dipping fish into fish."
Much of our cuisine comprises saucy, comfort foods, and we use sofrito, a natural, ripe tomato-sauteed flavour base, for many of our most popular dishes. Here, tomatoes are cooked until the skins curl, ensuring a strong umami taste. Although Filipino food also makes use of such flavour enhancers as butter, animal fats and oils, using umami-rich foods like ripe tomatoes helps to reduce calories whilst ensuring that the dish remains deliciously rich and full in flavour. This is particularly relevant in the current age, in which umami can be used to ensure food remains satisfying without becoming unhealthy"
■ Ingredients( for 4 persons )
250g chicken cut into serving pieces
250g pork or pork belly with skin on,cubed
1 bay leaf
50g garlic, crushed
2 tsp cracked black peppercorns
160ml water
60ml coconut or cider vinegar
30ml soy sauce
2 tsp rock salt
1/2 tbsp annatto oil

<For the annatto oil(Makes 240ml)>
240ml corn oil
60g annatto seeds*

*

...60g



*

Annatto seeds, the dried pulp of the fruit of the achiote tree, have a slightly sweet, peppery flavor and are used frequently in Latin American and Southeast Asian cuisine.
■ Method
< For annatto oil >
1.

Heat the corn oil until very hot.

2.

Remove from the heat and add the annatto seeds.

3.

Once the oil is bright orange, strain the oil and discard the seeds.
< For chicken and pork adobo >
1.

Marinate the meat in soy sauce and vinegar for 30-60 minutes.

2.

Combine the meat, marinade and all the other ingredients in a casserole, on a medium heat.

3.

Cover 2 and bring to the boil, then lower the heat and simmer, covered.

4.

When the meat is almost tender, pour in the annatto oil and continue cooking to thicken the sauce (45 minutes approximately).

5.

Serve with fried garlic bits if desired.
Copyright ©Umami Information Center
※This recipe is featured in FILIPINO - UMAMI world recipe Vol.4.
Profile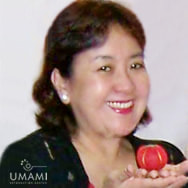 Nancy Reyes-Lumen
Nancy Reyes-Lumen is a renowned food writer, critic, television host, radio personality and content provider of daily food tips and trivia via SMS and MMS for Smart telecommunications. Being a true Filipino, she is actively involved in the promotion of her native cuisine to the rest of the world, as well as increasing dietary standards and food literacy throughout the Philippine archipelago. She is also dedicated to raising the status of the home cook, and encouraging environmentally friendly, low waste cooking practices. Nancy was a guest speaker at the 2008 Umami Symposium in Manila, and is well versed in the potential of umami-rich condiments and dishes to encourage more nutritionally balanced diets and contribute to reducing levels of obesity. She is the author of several cookbooks, and worked as recipe consultant for the latest edition in our umami world recipe series.