"TERRA" "AME" Chef Hiro Sone's Ginger Shrimp and Watermelon Salad with Lemongrass Vinaigrette
August 2020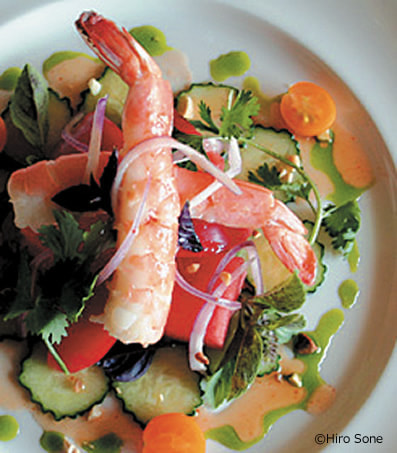 This lively summer salad brings together each of the five basic tastes to give a flavour both complex and revitalising. Umami-rich tomatoes, dried shrimp and peanuts are brought together with sweet watermelon and salty fish sauce as well as lime juice for refreshing sourness and a touch of cucumber rind for a bitter flavour. The sublime combination of the tomatoes and the fish sauce gives the dish an unsurpassable richness of flavour.
"Umami is a key consideration when I am thinking up new recipes, and it provides a crucial base when bringing out the complex and subtle taste of a dish. As a Japanese person brought up with an awareness of umami, incorporating it into my meals is a natural process for me. In my restaurants at the moment, we use three different kinds of fish sauce. Fish sauce has been used in Italy since Roman times, and we are currently using this Italian fish sauce along with a Vietnamese and a Thai sauce. I hope that in the future, more and more people will come to have a good understanding of umami and the role it plays in cuisine."
■ Ingredients( for 4 persons )
<For the ginger shrimp>
2L water
1 small onion (about 6oz.), thinly sliced
1/3 cup thinly sliced ginger
(about 1 1/4oz.)
1 clove garlic, smashed
3 tbsp rice vinegar
5 tbsp kosher salt or 3 tbsp salt
12 shrimp in their shells, about 1oz.
each, veins removed
<For the vinaigrette>
4 tbsp freshly squeezed lime juice
(about two limes)
1 tsp minced lemongrass
1 tsp smashed and minced dry shrimp
2 tsp fish sauce
1/2 tsp minced ginger
Pinch minced Thai chili
1/2 tsp sugar
<For the salad>
1/2 small seedless watermelon,
rind removed and cut into 1 1/2" cubes
2 small heirloom tomatoes, slice to
1/2" thick
1 tbsp red onion, thinly sliced
1 Japanese cucumber or
1/2 a hothouse cucumber
(seeds removed, thinly sliced)
4 cilantro sprigs
4 basil sprigs
2 tsp peanuts, toasted and chopped
■ Method
1.

Sufficiently in advance so that the shrimp can cool, combine all the ginger shrimp ingredients except the shrimp themselves in a stainless sauce pot and simmer for about 10 minutes.
2.

Add the shrimp and bring back to a boil over high heat and simmer 10 seconds, then drain.
3.

Transfer the shrimp to a sheet pan and let them cool.
4.

After the shrimp are completely cooled, carefully peel the shells off. Discard the shell. Cover the shrimp with plastic wrap until use.
5.

In a small mixing bowl, whisk all ingredients for the vinaigrette together. Set aside.
6.

Mix the other ingredients for the salad together with the ginger shrimp. Gently pour on the vinaigrette and toss the salad.
Profile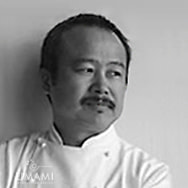 Hiro Sone
The 2003 winner of the James Beard Foundation's award for Best Chef in California and the first Japanese chef to have two restaurants with Michelin stars has certainly come a long way from his beginnings on his family's Japanese rice farm, but his cuisine still pays homage to the great respect for food he gained there. After going from culinary school in Osaka, Japan to French and Italian restaurant kitchens in Tokyo, Chef Hiro Sone ended up in the kitchens of the renowned Wolfgang Puck. It was while training at Hollywood Spago, in preparation for the opening of Tokyo Spago, that Sone met his future wife and business partner Lissa Doumani. A few years later, the pair opened Terra restaurant in Napa Valley to overwhelming acclaim. In November 2005, they opened Ame in San Francisco.