Honey Teriyaki Chicken
Umami-rich Recipes with Chicken
August 2020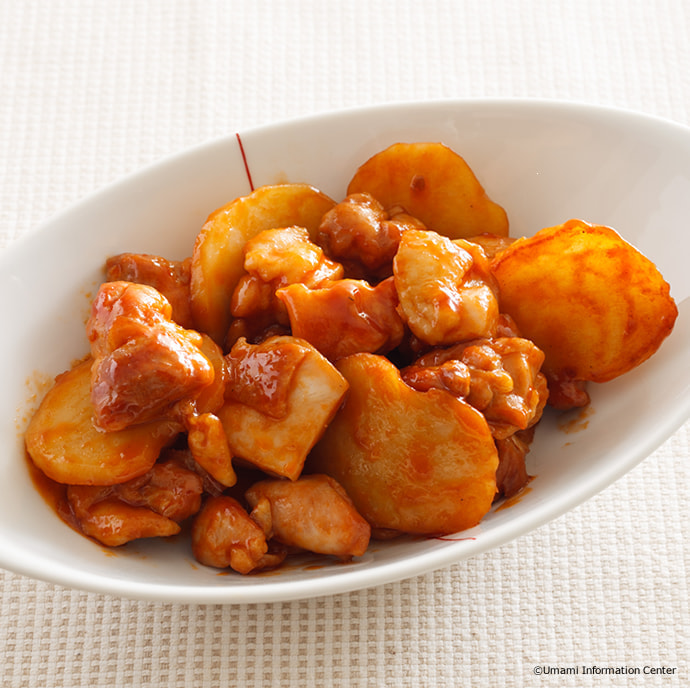 A combination of chicken and potato makes delicious dishes thanks to umami synergistic effect.Seasonings such as tomato ketchup and soy sauce derive umami as well.The dish get on well both with rice and with bread.
■ Ingredients( for 2 persons )
1 piece of chicken thigh
(about 300 g)
1 potato
salt and pepper to taste
olive oil

| | |
| --- | --- |
| A | ・1/2 tbsp honey |
| | ・1 1/2 tbsp ketchup |
| | ・1 tbsp Worcestor sauce |
| | ・1 tbsp Japanese Sake |
| | ・1/2 tbsp soy sauce |
■Recipes
1.

Mix

and set them aside.

2.

Cut chicken thigh into 3cm cubes and sprinkle them with salt and pepper. Peel potatoes and cut them into 5mm cubes.

3.

Heat olive oil in a flying pan and put potatoes and chicken skin side down. Cook them, pressing on the chicken from time to time.

4.

When the skin turns golden brown, turn them over and grill the other side.

5.

Turn them over again and cover. Let it cook for about five minutes.

6.

Wipe the remaining oil in the pan. Place 1 into the pan and cook, blending with the 1.
Umami Score of Main Ingredients in the Recipe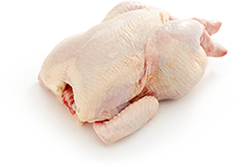 Chicken
Glutamate :
20〜50mg/100g
Inosinate :
150〜230mg/100g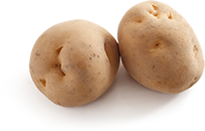 Potato
Glutamate :
30〜100mg/100g

Cooking time : 15 minutes
Calorific Value : 510 kcal
Chicken is rich in umami substance; glutamate and inosinate, potato is rich in glutamate. Pairing of these two ingredients provides umami synergy and makes dish tasty.
Source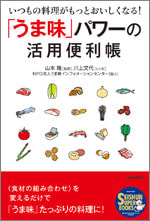 By using umami power, make your daily dishes more delicious
Seishun shuppannsha 2013 August
About 150 recipes by cooking specialist Fumiyo Kawakami are presented in the book.
The Umami Information Center provides basic umami information and Dr. Takashi Yamamoto, our president, supervised the book.