Dry-cured ham, often called Prosciutto, with the name of its Italian variety, is recently getting popular and many varieties are becoming available on the market. A dry-cured ham is, unlike cooked hams that are more common, unheated in its manufacturing process.
The most renowned dry-cured hams in the world are Prosciutto di Parma from Italy, Jamone Serrano from Spain and Jinhua ham from China
These are all made of pork, salt-cured, dried and ripened for a considerable amount of time. production of dry-cured hams originally started for the purpose of preservation of meat and the suitable production method for the climate of each region has been established through generations. Below is the report about umami found in one of dry-cured hams from the mountain area of Iberia Peninsula, Spain.
The graph shows that protein in pork is degraded by proteolytic enzyme into amino acids, and glutamate, umami substance, is increasing. As an example, let's look into the climate of Badajoz in the mountain area of the western Spain near the border with Portugal, one of the major production areas of jamon iberico. In January the highest temperature is 1℃, the lowest is 3℃, precipitation is about 50mm. In August the highest temperature is 33℃, the lowest is 17℃ and precipitation is almost zero: the difference of temperature within a day is great and the humidity is very low. It can be said that low temperature and high humidity in the winter as well as high temperature, low humidity and large daily temperature range in the summer is desirable for flavorful, umami-rich dry-cured hams.
(*:Zen Tech World Temperature
Ripening Process and Glutamate in Dry-Cured Ham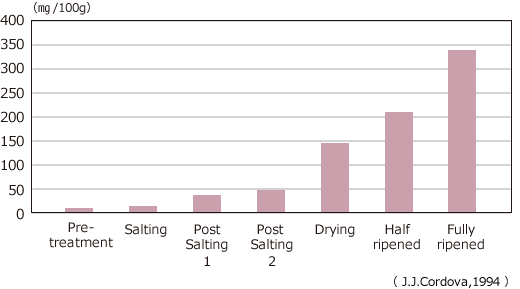 | | |
| --- | --- |
| Preparation | :temperature at 0-4℃ for two days |
| Salting | :temperature at 4℃ for fifteen days |
| Post Salting1 | :After washing off salt,temperature at 0-4℃ relative humidity 90% for 60 days |
| Post Salting2 | :increase temperature 2-3℃ per week, decrease relative humidity 1-2% per week for 45 days |
| Drying | :high temperature, low humidity for 45 days |
| Half ripened | :6month |
| Fully ripened | :12 month |