>
>
Umami-rich Recipes with Chicken



By knowing the ingredients that have umami and combining them skillfully,
you can easily make delicious meals thanks to umami synergy.
Here are six recipes using high-umami-score ingredients. Please try out and enjoy these recipes.
By the way, these recipes are mainly created using Japanese ingredients.
Please feel free to change them with ingredients from your locality and enjoy your original umami-rich recipes.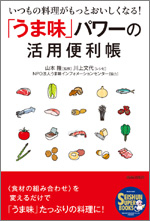 "By using umami power, make your daily dishes more delicious"
Seishun shuppannsha 2013 August
About 150 recipes by cooking specialist Fumiyo Kawakami are presented in the book.
The Umami Information Center provides basic umami information and Dr. Takashi Yamamoto, our president, supervised the book.