Yakhni Pilau with Lamb
August 2020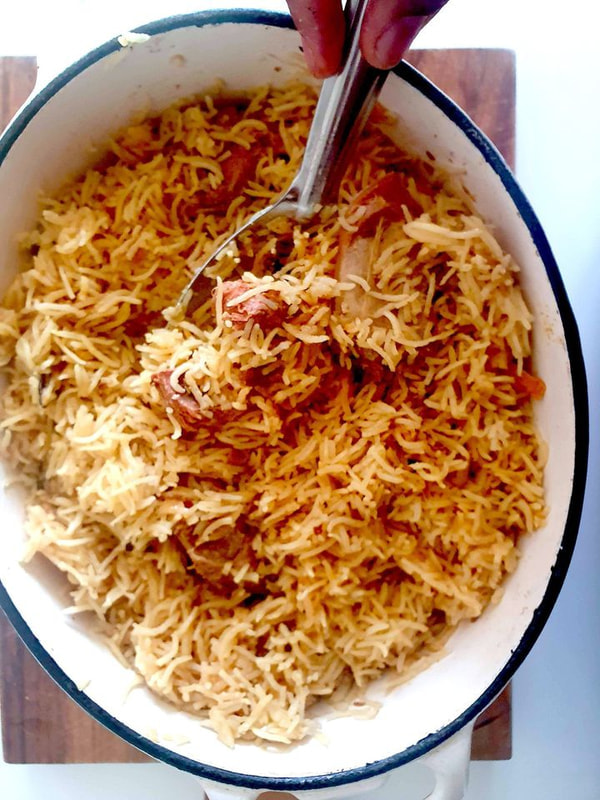 A one pot meal which I like to cook at home. This rice dish is very popular in India. Unlike a biriyani, where you layer the par boiled rice and meat curry before steaming it in a sealed pot, here you cook the rice with the meaty stock, which gives a great depth of flavour.
It does require slow cooking and caramelising onion takes time but definitely worth trying, specially if you are still working from home. Onions, garlic, ginger and the bone broth give this dish an incredible burst of Umami.
<Ingredients>
Serves 6
500g basmati rice, the best you can afford
A:
500 g lamb shoulder, bone in and fat cap removed
1 brown onion, peeled but left whole
1 head garlic, whole and skin on
2 inch ginger, sliced with skin on
1 bay leaf
1 stick cinnamon
Tie the following in a muslin cloth:
1 tbsp fennel
1 tbsp coriander seeds
4 cloves
3 green cardamom
1 black cardamom
1 tsp black pepper
Salt to taste
B:
2 tbsp ghee or butter
1 tsp each cumin seeds and caraway seeds
1 tsp black pepper
4 cloves
3 green cardamon
1 black cardamom
1 tsp each ginger and garlic paste
1 green chilli, slit
2 medium onions, sliced
1 cup yoghurt
<Method>
1. Wash rice well and soak for 30 minutes and drain well.
2. Add all ingredients in A above with 5 cups of water to a pressure cooker and cook for 30-40 minutes until the meat is tender. Alternatively cook in a slow cooker overnight with 3 cups of water.
3. Strain the meat, discard the onion, garlic and spices and save the meat and water (stock) separately.
4. Find a heavy based cast iron pan with a tight fitting lid and heat the ghee or butter in it over medium heat. Add everything in B above apart from the yoghurt to it and fry very well until the onions and garlic are dark brown and caramelised. Add a splash of water to the pot if you find the onions are sticking.
5. Take off the heat, add the yoghurt and stir well. Return to a low heat and cook for 5 minutes.
6. Add the soaked rice to the onion-yoghurt paste gently, being careful not to break the grains of rice. Add 1.5 times the weight of the rice in stock, so for 500g rice add 750ml of the reserved stock.
7. Bring the stock to a boil and when most of it has evaporated, reduce heat to minimum, tightly cover the top of the pan with a double layer of foil and the heavy lid. Cook for 20 minutes.
8. Take off the heat, rest for 5 minutes without opening and serve. Garnish with fresh mint, coriander, crisp fried onions and slit green chillies.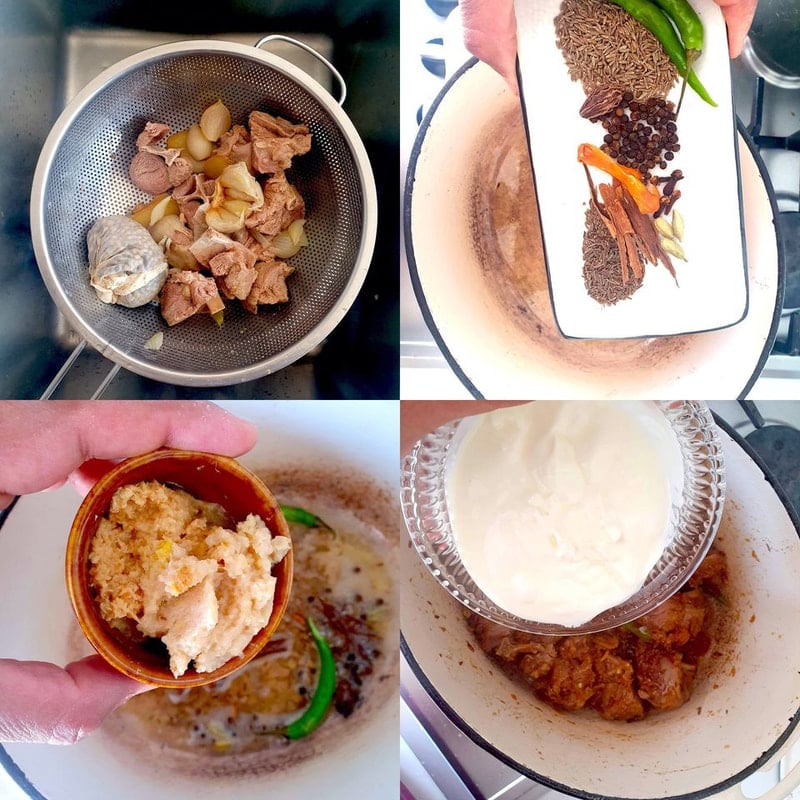 I like to open the rice on the table as it really is the centrepiece of the dinner and the waft of flavours you get when you lift the lid is amazing. Keep a bowl of ingredients to garnish the rice once you open it.