Three Easy Umami Snacks
November 2020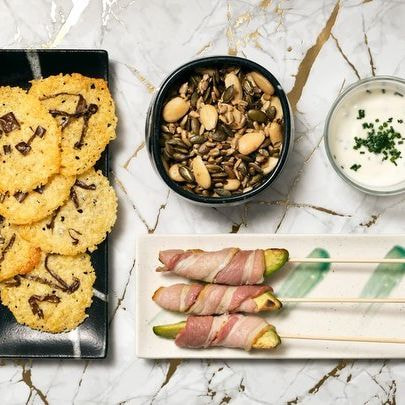 Three Easy Umami Snacks - Let's get the festive vibe going!⠀
Quick, easy and healthy Umami snacks to go with drinks at home.
1. Bacon-Wrapped Avocado Sticks⠀
Ingredients: (makes 8 sticks)⠀
⠀
1 avocado⠀
8 thin streaky bacon rashers⠀
8 wooden sticks⠀
⠀
Dipping sauce⠀
⠀
2 TBSP crme frache⠀
1 tsp chopped chive
Method⠀
⠀
Peel the avocado and cut into 8 wedges.⠀
Wrap each piece of avocado with a bacon slice. Tuck in the end.⠀
Grill under high heat for about 4 minutes until the bacon is sizzling.⠀
Insert a stick into each roll.⠀
Mix crme frache and chopped chives in a small pot.⠀
Serve with the dipping sauce.⠀
2. Roasted Nuts & Seeds (vegan)⠀
Ingredients:⠀
⠀
50g sunflower seeds⠀
50g pumpkin seeds⠀
50g blanched almonds⠀
2 tsp liquid amino sauce, or soy sauce⠀
Method⠀
⠀
Heat a frying pan and dry-roast the seeds and nuts over low heat, stirring every minute or so.⠀
Roast for 15-20 minutes until the sunflower seeds and almonds are slightly browned, but not burned.⠀
Turn off the heat and squirt amino sauce or soy sauce over the mixture. ⠀
Keep on stirring for another 5 minutes to coat the nuts and seeds evenly with seasoning. ⠀
3. Crispy Cheese Discs with Dulse (vegetarian)⠀
Ingredients (makes 12 discs)⠀
⠀
40g Pecorino or Parmesan cheese⠀
40g Cheddar cheese⠀
some dulse, or any other dried seaweed⠀
Methods⠀
⠀
Finely grate the cheeses and divide the mixture into 12 circles on greaseproof paper covering an oven tray. ⠀
Cut the dulse into strips or tiny squares and decorate the discs.⠀
Grill under high heat for 5 minutes until the cheese has melted, is bubbling, and the edges start to brown.⠀
Cool down a little then peel the discs gently from the greaseproof paper.