Mushroom Steak in Red Wine & Chocolate Sauce
Umami-rich Recipes of Vegetable
December 2020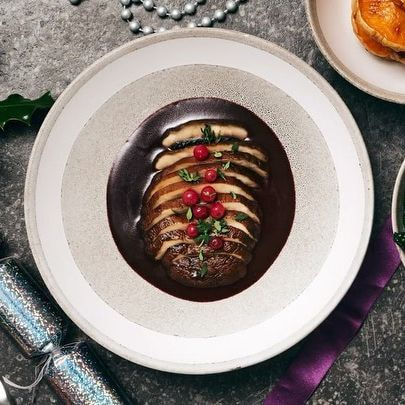 The mushroom is marinated and baked to make a juicy, chewy, flavourful steak. The gorgeous sauce is made with red wine and stock from dried mushrooms for Umami oomph. ⠀
Rich yet light, you can eat two or three of the mushroom steaks in one go as a main dish. Vegans should use coconut oil instead of butter, and use vegan wine and chocolate.⠀
Ingredients (Serves 2-4)⠀
⠀
• 6 Portobello or other large flat mushrooms⠀
• 5g dried mushrooms such as Porcini or shiitake - we used both⠀
• 200ml water⠀
• 70g shallots, peeled and thinly sliced crossways⠀
• 1 TBSP olive oil⠀
• 500ml red wine⠀
• 1 bay leaf⠀
• salt⠀
• 2 TBSP olive oil⠀
• 1 piece (10g) dark chocolate. 85% cocoa is the best, break into small pieces by hand⠀
• 10g butter or coconut oil⠀
• thyme sprigs⠀
• 2 TBSP of redcurrants - we used frozen⠀
Marinade⠀
⠀
• 2 cloves garlic, minced⠀
• 1 TBSP Satsuma orange juice⠀
• 2 tsp red wine vinegar⠀
• 2 TBSP soy sauce⠀
• thyme sprigs⠀
Method⠀
⠀
• Soak the dried mushrooms in a bowl of water for a half an hour.⠀
⠀
• Mix all the ingredients for the marinade. Arrange the mushrooms on an oven tray, stem side up. Pour the marinade over them, making sure it completely coats the mushrooms. Leave to marinate for at least 30 minutes.⠀
⠀
• Simmer the red wine in a pan until it has reduced by half.⠀
⠀
• Heat the oil in a frying pan and sauté the shallots for 3 minutes. Add the rehydrated mushrooms, their soaking water, and a bay leaf. Simmer for 5 minutes.⠀
⠀
• Heat the oven to 200ºC. Drizzle oil over the flat mushrooms, making sure they are completely coated. Bake for 15 minutes then turn them upside down for another 5 minutes. Keep the mushrooms warm on the tray.⠀
⠀
• Strain the stock into the pan of red wine and add the juice from the baked mushrooms. Simmer without lid for 20 minutes or until about 300ml of liquid is left.⠀
⠀
• Add the butter and chocolate, and season with salt to taste. If the sauce tastes too bitter, add a little maple syrup to taste.⠀
⠀
• Pour the sauce onto a serving plate. Cut the mushroom steaks into 5mm slices and place them over the sauce. Decorate with thyme and redcurrants.