Paella with leftover turkey
Umami-rich Recipes with Chicken
December 2020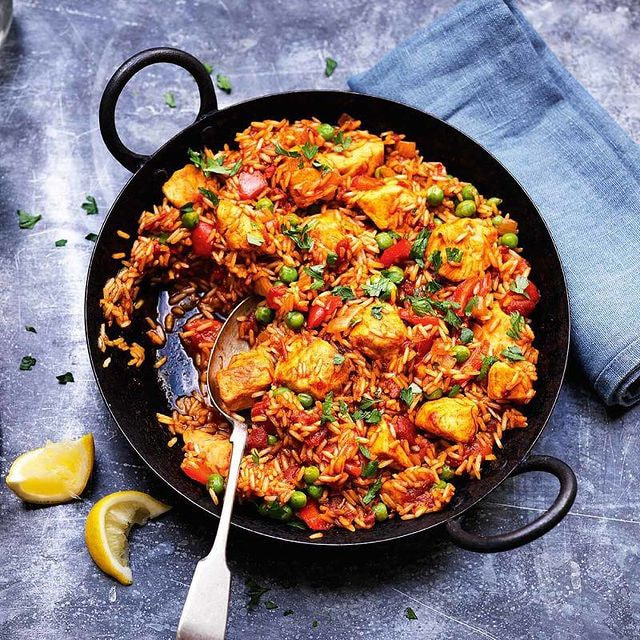 Don't throw away any remnants of the Christmas turkey. Here is a paella cooked in stock made from the carcass and all the leftovers.
Ingredients:⠀
<serves 4>⠀
⠀
1 onion, chopped⠀
2 TBSP olive oil⠀
2 cloves garlic, crushed⠀
1-2 tsp chilli flakes⠀
1 TBSP smoked paprika⠀
A pinch of saffron, soaked in 1 TBSP water⠀
200-300g leftover roast turkey⠀
Any leftover vegetables and stuffing, chopped⠀
1 red pepper, sliced length-ways⠀
300g rice (any type except Basmati or Jasmin rice)⠀
2 TBSP tomato paste⠀
2 tsp Worcester sauce⠀
Salt and pepper⠀
1 lemon cut into a half, the other half into 4 wedges⠀
100g frozen peas ⠀
Chopped parsley⠀
<Turkey stock>⠀
Turkey carcass after picking all remaining meat from the bones⠀
1/2 stalk celery, chopped⠀
A piece of dried mushroom⠀
1 whole garlic, peeled⠀
A small glass of leftover white wine (optional)⠀
2L water⠀
Method:⠀
⠀
1. Make the stock. Boil water in a large pan and add the carcass, vegetables and wine, if using it. Cook for 15 minutes on high heat, then let it simmer until you've prepared the other ingredients.⠀
2. Heat oil in the large frying pan. Sauté the onion for 3 minutes. Add all the spices, garlic, rice and stir for another 2 minutes. Then ladle in 1.2L stock from the pan including bits of celery, and add tomato paste and Worcester sauce.
3. Add turkey, red pepper and all the leftovers. Bring the frying pan to the boil then simmer without lid for 15 minutes or until the liquid is absorbed into the rice.⠀
4. Add the frozen peas and squeeze the half lemon over the rice. Heat for another 5 minutes, then season with salt and pepper. Serve with chopped parsley and lemon wedges.⠀
5. There is some stock left in the pan! Strain the turkey stock and add 1 TBSP Marmite. Stir in a beaten egg and chopped coriander leaves. You have an egg drop soup to go with the paella.⠀