Venison, Gin and Stilton Casserole
Recipes with Umami Ingredients
December 2020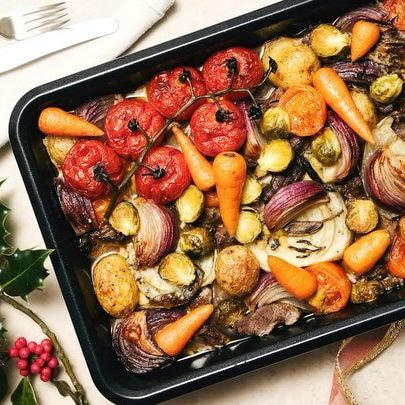 The meat is marinated in gin and Worcester sauce then casseroled in tomato water, which is the juice of ripe tomatoes. Tomato water is full of Umami.⠀
⠀
For best results, make this a day or two before you'd like to enjoy it, keep it in the fridge, and reheat it for half an hour in the oven at 170c before serving.⠀
⠀
Accompany with rowan or red currant jelly if you like.⠀
Ingredients (Serves 4)⠀
⠀
• 500g diced venison⠀
• 400g ripe medium sized tomatoes, cut in half⠀
• 12 new potatoes⠀
• 1 small fennel bulb⠀
• 2 cloves garlic, skin on⠀
• 2 medium red onions, each cut into 8 wedges⠀
• 20ml Extra Virgin olive oil⠀
• 100g stilton cheese⠀
• 12 brussels sprouts, cut in half⠀
• A handful of mini carrots⠀
Marinade⠀
⠀
• Juice of 1 small lemon⠀
• 2 TBSP gin⠀
• 1 tsp Worcester sauce⠀
• A handful of sage leaves⠀
• 40ml Extra Virgin olive oil⠀
• Salt and pepper⠀
⠀
Heat oven to 170ºC⠀
Method⠀
⠀
• Pour the juice of one lemon, gin, Worcester sauce, 1tsp salt and some black pepper into a large bowl to make the marinade.⠀
⠀
• Add the venison and sage and rub the meat with your hands. Add olive oil, mix again, then marinate for 1 - 4 hours.⠀
⠀
• After the meat has marinated add potatoes, garlic cloves, tomatoes and onion and stir to coat the vegetables with the marinade.⠀
⠀
• Trim and slice the fennel into 1cm slices. Place them in a deep oven tray then pour in the whole contents of the bowl over them.⠀
⠀
• Scatter on some more sage, add salt and pepper, then add a glug of olive oil. Crumble the Stilton cheese and scatter it over the meat and vegetables.⠀
⠀
• Bake for 1 hour 30 minutes at 170ºC. The tomatoes should release a surprising amount of liquid but if they don't, add 100ml vegetable stock or water. Turn the ingredients a few times during cooking.⠀
⠀
• Lightly brush the Brussels sprouts and mini carrots with olive oil. Pop them onto the tray and bake for a further 30 minutes. If the tops of the meat and vegetables start to look too brown during cooking, cover the tray with foil. Keep warm in the oven until serving.