Umami Bullshot
Umami-rich Recipes of Drink
February 2021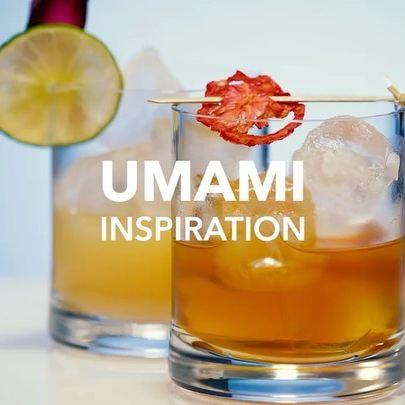 A shot of vodka mixed with beef consommé straight out of the tin, Bullshot used to be a cool cocktail, created in the 1950's America.⠀
⠀
It is a cousin of Bloody Mary, another savoury cocktail. We boosted the Umami with our secret weapon, Miso.⠀
⠀
In our effort to create a vegan version of this cocktail, we discovered that vodka plus Kombu Dashi stock actually tastes like an oyster! We named it Vullshot. It has to be tried to be believed.⠀
Umami Bullshot⠀
⠀
Ingredients ⠀
⠀
• A shot of vodka⠀
• 60ml beef stock + 1TBSP for dissolving the miso⠀
• 1tsp Shiro (white) miso⠀
• Tabasco sauce⠀
• Ice⠀
• A slice of sun-dried tomato⠀
Method⠀
⠀
• Dissolve the miso paste in 1 TBSP beef stock. Strain.⠀
• Fill a tumbler with ice.⠀
• Add a shot of vodka, then the beef stock and strained miso liquid. Stir.⠀
• Add Tabasco to taste⠀
• Garnish with a slice of sun-dried tomato. When you drink it, dunk this into the cocktail to boost the Umami.⠀
Vullshot - Vegan Bullshot⠀
⠀
Ingredients⠀
⠀
• A shot of vodka⠀
• 5g dried Kombu or kelp strips⠀
• 100ml water⠀
• 1tsp yeast extract such as Marmite⠀
• Tabasco sauce⠀
• Ice⠀
• Belgian Endive⠀
• Lime⠀
Method⠀
⠀
• Make Dashi stock by soaking Kombu or kelp strips in a jug of water overnight. Strain.⠀
• Dissolve the yeast extract in 1TBSP of warm water.⠀
• Add a shot of vodka, then the Dashi stock and yeast extract. Stir.⠀
• Add Tabasco to taste⠀
• Garnish with a slice of lime and an endive leaf.