Mussels
Umami-rich Recipes with Seafood
April 2021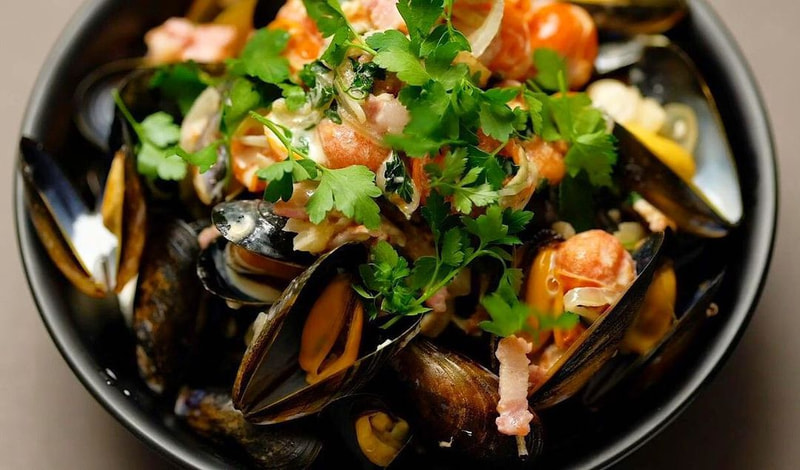 Shellfish in general are rich in all sorts of nutrients and good sources of Umami. Farmed mussels are widely available and inexpensive, yet their flavour is no less than more expensive ones. Umami from bacon, shallot and tomato work together with the mussels. This dish is nourishing, and wonderfully easy to make.⠀
Ingredients (serves 2-3)⠀
⠀
1kg mussels⠀
⠀
- For Bouquet Garni⠀
⠀
a few parsley stalks⠀
1 celery stick, about 15cm⠀
1 Bay leaf⠀
- For the sauce⠀
⠀
1 tbsp olive oil⠀
200ml English cider⠀
2 cloves garlic, minced⠀
100g smoked bacon, chopped finely⠀
100ml double cream⠀
100g shallots, sliced crossways⠀
150g cherry tomatoes⠀
a handful of flat leaf parsley
Method⠀
⠀
- Wash mussels with water and discard those with broken shells or that stay open.⠀
- Tie parsley stalks, celery stick and bay leaf together with string to make Bouquet Garni.⠀
- Heat olive oil in a pan and add smoked bacon. Fry for two minutes then add Bouquet Garni and shallot slices. Stir fry until the shallot is translucent. Add garlic and cherry tomatoes.⠀
- Add mussels to the pan and pour cider over them. Put the lid on and turn up the heat. The mussels start to open after 3-4 minutes. Wait until most of them are open. ⠀
- Open the lid and scoop out the mussels. Keep them warm.⠀
- Pour cream into the pan and heat again for 3 minutes. Add parsley leaves.⠀
- Pile the cooked mussels in a deep serving bowl and pour the content of the pan over them. Sprinkle on more parsley leaves if you like.