No-Bake Raw Avocado Cake
Umami-rich Recipes of Vegetable
May 2021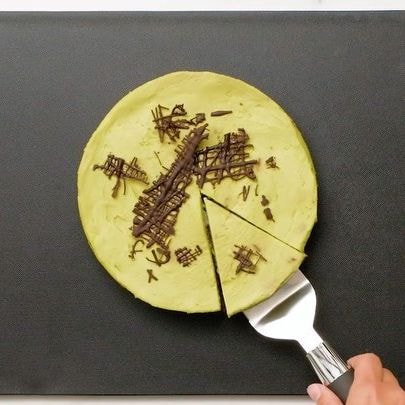 Avocados are rich in Umami and amazingly versatile. This vegetarian (and vegan) & raw dessert has the texture and flavour of cheesecake!
We used a 7"/18cm pie dish with removable bottom.
Ingredients

For The Base
80g chopped dried apricot*
60g chopped dried fig*
40g cashew nuts*
2TB water
For The Filling
1kg ripe avocado*
80ml melted coconut oil
3TB agave syrup
Chocolate shards
40g dark chocolate, vegan if required.
Method:
- Melt the chocolate in a glass bowl over hot water in a pan.
- Using a spatula, drizzle the melted chocolate onto non-stick cooking paper and place in a refrigerator. Keep the glass bowl smeared with chocolate: don't wash up yet!
- Put all the ingredients for the base into a food processor and blend it in pulses until they are ground up. Add water to loosen the mixture.
- Mix together the base mix and melted chocolate in the chocolatey bowl, then spread it into the pie dish. Chill in a refrigerator for an hour.
- Scoop the avocado flesh into another glass bowl, and add agave syrup. Mash it into a cream using a hand mixer, then add melted coconut oil. Blend until the cream is very smooth.
- Take out the chocolate from the refrigerator and break half of it into the avocado cream. Fold in lightly.
- Pour the creamy mixture into the pie dish and refrigerate for 2 hours until set. Remove it from the pie dish and decorate it remaining chocolate shards.