Vegan Chilled Beetroot Miso Soup
Umami-rich Recipes of Soup
Vegan Recipe
July 2021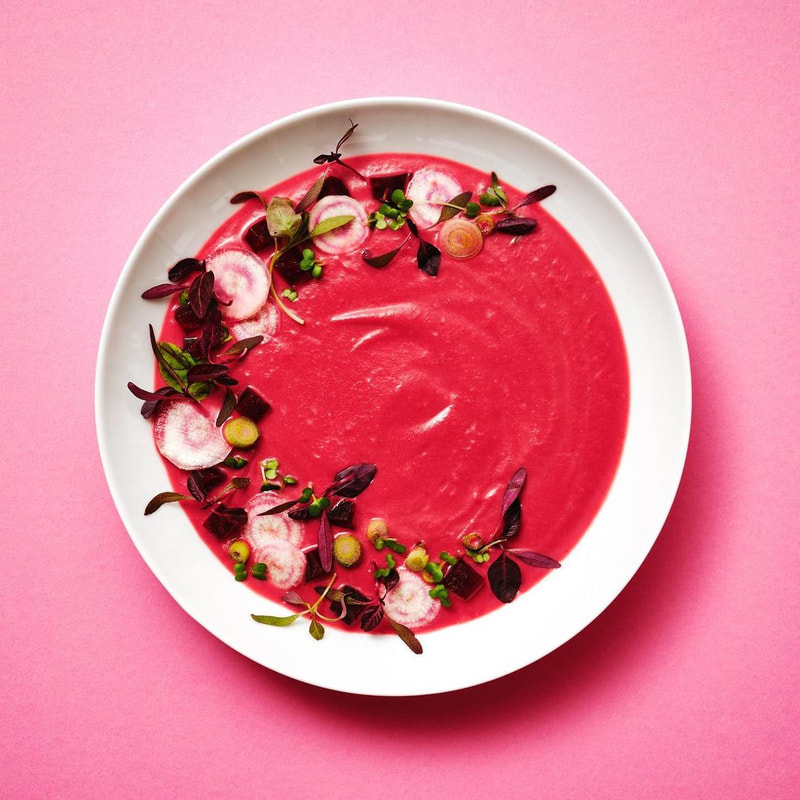 This is Miso soup, but not as you know it. And it's served cold!
First make a conventional soup with Dashi broth, full of the Umami from Kombu and Miso, then add beetroot to bring a thick and creamy texture and vibrant colour to the soup. It's a great starter for warm and humid summer evenings.
Serves 2

250g cooked and peeled beetroot (not in vinegar)
250ml Dashi made with 10g Kombu/kelp
1.5 Tbsp Miso (white or yellow)
200ml soy yogurt
1tsp red wine vinegar
Garnish
50g cooked beetroot
1 candy beet
1 green part of spring onion
micro herbs such as amaranth sprouts, etc.
Method:

1. Make the Dashi the day before you want to make this recipe. Soak the strip of Kombu in water and leave it overnight. Remove the Kombu before using.

2. Place the beetroot, Dashi and Miso in a food processor and blitz until smooth.

3. Add soy yogurt and vinegar. Blend once again. The saltiness of Miso varies, so taste the soup and season as required.

4. Chill the soup in a fridge until serving. The soup thickens in half an hour.

5. Garnish with diced beetroot, sliced candy beets, chopped spring onion and micro herbs.