Crab Shio Ramen
UMAMI at HOME
Umami-rich Recipes with Seafood
February 2021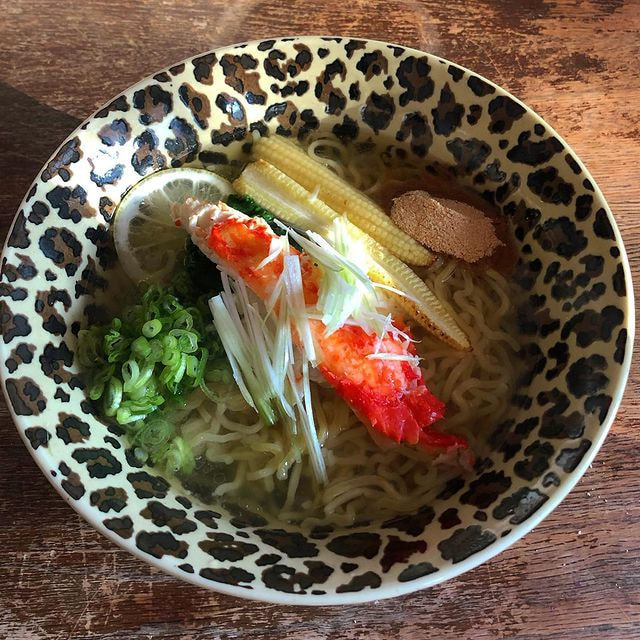 "This ramen is inspired by Hokkaido, which I am currently researching for an upcoming project. Crab and ramen are both local specialities, and they are occasionally combined by creative ramen shops. This is a simple version you can easily make at home. The deep Umami satisfaction comes from fish stock, Kombu, spinach, katsuobushi, crab, corn and spring onion." - Chef Tim Anderson⠀
Visit our 'Home' story highlights section for the full series of chef's dishes for you to try at home!
Ingredients:⠀⠀
Serves 2⠀⠀
⠀⠀
650ml fish or shellfish stock⠀⠀
5g (about 8cm square) kombu⠀⠀
100ml sake⠀⠀
2 tbsp mirin⠀⠀
sea salt, as needed⠀⠀
40g spinach⠀⠀
4 tbsp bacon fat or other animal fat⠀⠀
15g katsuobushi⠀⠀
100-120g crab meat (cooked)⠀⠀
2 pieces baby corn, cut in half⠀⠀
2 portions ramen noodles⠀⠀
2 thin slices lemon⠀⠀
4 spring onions, finely sliced⠀⠀
a few pea shoots
Method:⠀⠀
⠀⠀
Combine the stock, sake, mirin, and kombu in a saucepan and set over a medium-low heat. ⠀⠀
When the liquid is barely simmering, with just a few bubbles breaking the surface, remove from heat and leave the kombu to infuse for at least 20 minutes. ⠀⠀
Remove the kombu and discard. ⠀⠀
Season with sea salt to taste (it should be quite salty). ⠀⠀
Keep the broth at a simmer until ready to serve.⠀⠀
Bring a large pot of water to the boil.
Blanch the spinach for 30 seconds, drain, and transfer to a bowl of cold water. ⠀⠀
Squeeze the spinach gently to expel excess liquid. ⠀⠀
Grind the katsuobushi to a fine powder with a spice mill, blender, or mortar and pestle. ⠀
Heat the fat in a frying pan over medium-high heat and fry the corn on both sides for 4-5 minutes, until browned. ⠀⠀
Add the crab to the pan and switch off the heat. ⠀
Boil the noodles according to the package instructions, until al dente (usually about 1-3 minutes), then drain well. ⠀
Ladle the broth into deep bowls, then add the cooked noodles and the warm fat from the frying pan. ⠀
Top with the blanched spinach, baby corn, crab meat, lemon, spring onions, pea shoots, and katsuobushi powder.