Hake in Parma Ham
Umami-rich Recipes with Pork
May 2021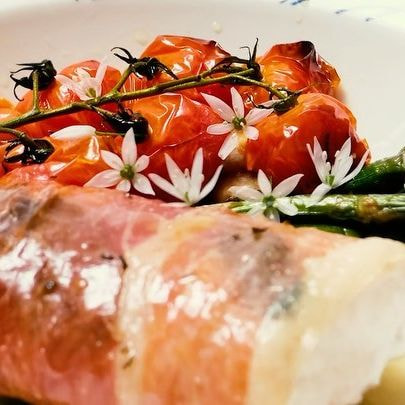 Hake is a sustainable alternative to overfished cod or halibut. Its delicate flavour wrapped in Parma ham is a good example of Umami's synergistic effect. With side dishes of seasonal asparagus and juicy roasted tomato, this is a super Umami combo.⠀
The Asparagus Grower's Association @enjoyasparagus says do not snap the stems but trim them, so we trimmed!⠀
Ingredients ⠀
Serves 2⠀
⠀
• 2 hake fillets, skinned⠀
• 4 slices Parma ham⠀
• 4 sage leaves⠀
• A bunch of asparagus⠀
• A handful of cherry tomatoes, preferably on the vine⠀
• 3 cloves of garlic, skin-on, slightly crushed⠀
• Extra virgin olive oil⠀
• Thyme⠀
• Salt and pepper⠀
• Wild garlic flowers (optional)
Method⠀
⠀
• Heat the oven to 200ºC.⠀
• Trim the hard ends from the asparagus.⠀
• Lay 2 slices of Parma ham on a flat surface. Repeat.⠀
• Place 2 sage leaves on the centre of the ham.⠀
• Place hake fillets on top and wrap with the ham.⠀
• Move them onto an oiled oven tray, along with the asparagus. Drizzle with olive oil.⠀
• Put the cherry tomatoes into an oven dish. Sprinkle with salt and thyme.⠀
• Throw in the garlic cloves and drench with 4 tablespoons of olive oil.⠀
• Put the tomatoes in the oven first, followed 5 minutes later by the hake and asparagus.⠀
• Bake for 15 minutes, so that the tomatoes are roasted for 20 minutes in total.⠀
• Plate and pour the juice from the roasted tomatoes over the fish.⠀
• Decorate with garlic flowers, if you're using them.