New Style Dashi recipe by Chef Yoshihiro Murata
February 2012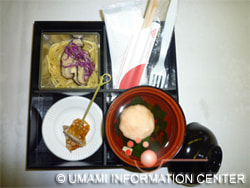 "Umami Lecture in Niigata" was held in Niigata on Sunday, October 23rd by co-organizers: Umami Information Center (NPO) and Niigata Cooking Technical School. In the program, chef Yoshihiro Murata (President/Chef of "Kikunoi" Japanese restaurant) made a wonderful cooking demonstration of Ichiban dashi (Japanese basic dashi using kombu and dried bonito flakes). His innovative New Style Dashi, which was brewed from dried tomatoes, dried morel mushrooms and chicken breast, followed.  This recipe is both innovative and versatile as you can make umami-rich dashi without kombu and katsuobushi, only using tomato, chicken and mushroom which are available almost everywhere.
Please enjoy his tasty ichiban dashi and innovative new style dashi.
For the article of Umami Lecture in Niigata, please visit our go to
https://www.umamiinfo.com/2011/12/2011-umami-lecture-in-niigata.php


☆ Ichiban Dashi
30g kombu
50g dried bonito flakes
1.8L water
<Preparation>
Place the kombu in a saucepan with the water.
Heat until 60°C and simmer for 1 hour at the same temperature.
Take the kombu out and heat it up to 85°C. Then add the dried bonito flakes.
When the flakes sink to the bottom of the pan, strain the dashi through cotton cloth.
☆ New Style Dashi
<Ingredients>
10g dried tomatoes
10g dried morrel mushrooms
200g chicken breast
4g salt (2% of the chicken's weight)
2L water
<Preparation>
Place the dried tomatoes and dried morrel mushrooms in a saucepan overnight.
Remove the fat from the chicken breast and grind the chicken meat with a food processor. Salt and leave for an hour.
Add the chicken to the saucepan and heat with medium heat until the chicken has cooked.
Strain the dashi through a cotton cloth.