Umami in "The Science of Taste", Denmark
June 2014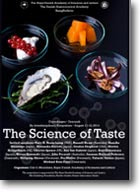 An interdisciplinary symposium, The Science of Taste took place in Copenhagen in August 11 and 12 at the neoclassic-style building of the Royal Danish Academy of Sciences and letters. This symposium was possible thanks to Dr. Ole G. Mouritsen, elected fellow of the Academy, who has a deep understanding of gastronomy as an aficionado food writer. He has published books about Japanese food (sushi), and umami taste. He also is in good relation with the Umami Information Center. (An article of Dr. Mouritsen in our website )
Dr. Mouritsen coordinated the involvement of The Carlsberg Foundation, Nordea-fonden, and the Umami Information Center together with the Royal Danish Academy of Sciences and letters, which resulted in an unusual symposium with 15 presentations and 2 tasting events, one from Umami Information Center and another from Nordic Food Lab has making challenge to create new recipes and develop new ingredients using Nordic products. Members of the Academy, scientists, food professionals, students, chefs, writers, food enthusiasts, and journalists shared the same space for two days to discuss issues about food perception, taste impact on health, deliciousness, cooking strategies, and food culture, at the same time that we had the opportunity to taste new ingredients from the surroundings of the Nordic regions, as well as new culinary concepts. From Umami Information Center, 4 lectures were presented below.

Dr. Kumiko Ninomiya:Science of umami taste: adaptation to gastronomic culture
Dr. Takashi Sasano:The importance role of umami taste in oral and overall health
Dr. Ana San Gabriel:Taste receptors in the gastro-intestinal system
Chef Koji Shimomura:Temporal design of taste and flavor-Practical collaboration between chef and scientist
(Dr. Hiroya Kawasaki, Ajinomoto Co., Inc collaborated with Chef Shimomura on this presentation)

Chef Shimomura and Dr. Kawasaki had a special presentation in which they used Iberico pork meat marinated with smoked kombu for several days to achieve maximum penetration of umami compounds into the meat without the addition of kombu flavor. Kombu flavor is not desirable in French cuisine. Dr. Kawasaki explained the process of developing new French recipes that are delicious, can include Japanese umami rich ingredients, but yet be different from the Japanese cuisine. Chef Shimomura presented this dish as an example for using unfamiliar ingredients in the French cuisine that bring satisfaction with less animal fat. It was also an excellent recipe to enjoy various levels of umami taste. Free glutamate from kombu penetrated the meat only from one side; the other side of the meat was not exposed to kombu. We believe participants could understand how to use umami in French cuisine without losing the especial traits of French cuisine.
The Umami Information Center will continue to promote umami lectures to promote the interest on umami taste. We thank you in advance for your continuous support in the future.