"umami:THE FIFTH TASTE" newly published
June 2014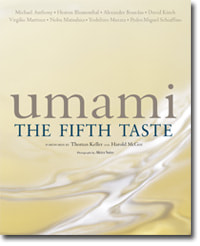 Chefs and scientists around the world are waking up to the power of umami. Once uniquely reserve to Japanese cuisine, it is now beginning to be used not just in authentic or even fusion Japanese dishes, but also in creations inspired by indigenous cuisines around the world and the reason for this is undoubtedly the power of umami. By providing accurate and beneficial information on umami to researchers, chefs, culinary professionals and students, dietitians and food journalists, the UIC desires to promote the umami in healthy and pleasant eating, and improve the quality of life. Therefore, the UIC dedicates itself to the education about umami, the organization of symposia, the maintenance of a comprehensive website and the publishing of brochures and booklets.
We are pleased to introduce a new book "umami: THE FIFTH TASTE", a practical guide to the taste that has transformed world cuisines. It features unique, healthy recipes from top international chefs in a comprehensive volume encompassing all you need to know about umami. With forewords by two world known leaders in gastronomy,chef Thomas Keller and food journalist Harold McGee, all in full color that includes 39 recipes from world leading chefs along with their interviews - Michael Anthony, Heston Blumenthal, Alexander Bourdas, David Kinch, Virgilio Martinez, Nobu Matsuhisa, Yoshihiro Murata and Pedro Miguel Schiaffino. Umami sweets recipes by Regis Cursan and Keiko Nagae are featured in our publication for the first time. While being an excellent book for learning the history, the scientific section that follows is featured by food scientist Dr. John Prescott and Prof. Ole G.Mouritsen. The Umami Information Center presents practical information; Dashi and umami--Basic information and ways to learn more.
The Umami Information Center continues to deliver accurate and useful information on umami.
umami:THE FIFTH TASTE


『umami: THE FIFTH TASTE』
Project Coordination: Kumiko Ninomiya Umami Information Center
Photographs: Akira Saito
Producer: Masayuki Uchiyama Dai-Ichi Tsushinsha
Publisher: Japan Publications Trading Co., Ltd.
Printer: Dai Nippon Printing Co., Ltd.