Umami Lecture in Paul Bocuse Institute, Lyon, France
October 2014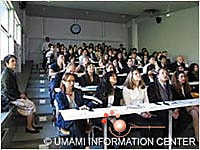 A showcase for French know-how and etiquette, Institut Paul Bocuse was found by Paul Bocuse, a leading figure in the French culinary field, in 1990 with the mission to train chefs on culinary practices besides hotel and restaurant management. A research center was later introduced to conduct research in the field of sensory evaluation, taste profile and eating behavior. The school covers a wide range of topics in culinary the field. In August, the Umami Information Center was requested to organize an umami lecture with scientific presentations and culinary demonstrations on Japanese and Western umami recipes.
The lecture got about 60 participants including students, faculties and researchers of PBI. It is interesting to know that the students' nationality covers not only French but also South America and Asia.
Dr. Gary Beauchamp of the Monell Chemical Senses Center, USA reviewed the research on umami taste, since early experiments to the discovery of umami receptors. Dr. Kumiko Ninomiya explained the basic principles of umami taste, umami compounds, their presence in foods, and their influence in the cooking of famous chefs. She also arranged tasting of water solution with 0.3% NaCl, and water solution with 0.3% NaCl and 0.02% MSG, which enabled participants to understand that umami was different from saltiness and it accentuated and amplified saltiness. Dr. Ana San Gabriel talked about the fact that umami compounds were also perceived in the gastrointestinal system and might have facilitated the digestion of proteins.
In the afternoon session, London based chef Daisuke Hayashi showed how to make dashi; kombu dashi, ichiban dashi, new style dashi (dashi made of dried tomato, dried morell mushroom and minced chicken breast.) Participants enjoyed to taste all dashi. He also prepared a butternut squash and shungiku layered soup with Japanese dashi for tasting. France based pastry chef Keiko Nagae prepared gelee de tomate, a dessert with tomato gelee with fennel scent and colorful tomatoes. Another dessert was pair sorbet served with parmesan cream and rocket salad.
In the demonstration by chef Hayashi, participants learned that they could get dashi by extracting umami substance from umami rich ingredients into water. Chef Nagae said, despite that umami seems to have no effects on sweetness of dessert, with skillful use of umami, we can enjoy refreshing sweetness and long-lasting umami.
Collected results showed that many participants learned about umami substance which was not only glutamate but also inosinate and guanylate. In addition, we found they learned some effects of umami such as to reduce salt intake and to promote salivation.
The Umami Information Center continues to deliver information on umami to students and faculties of cooking schools who will be driving force of future culinary world.