The 2nd Umami Lecture at the Paul Bocuse Institute, Lyon, France
November 2015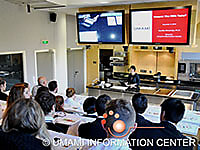 Date:November 6th 2015
Venue:Institute Paul Bocuse, Lyon, France
Organizers:Paul Bocuse Institute and Umami Information Center
Presenters:Kumiko Ninomiya, Ph.D. (Director, Umami Information Center)
Tadashi Yabe (Executive chef, Hotel Costes, Paris)
Keiko Nagae (Founder, AROME PARIS - Conseil en patisserie)
Participants:about 50 persons such as students, teachers and researchers of Institute Paul Bocuse, Consulate of Japan in Lyon, Tsuji Culinary Group's French campus in Lyon
Reporter:Umami Information Center
Lyon, the ancient capital of Gaul, is known for its football team, its unique and rich culinary culture, and for being the birth place of one of France's most renowned and loved chef, Paul Bocuse. It's therefore no surprise that the students at the Culinary Institute Paul Bocuse (IPB) are curious and never shy when it comes to facing a new taste.
The session took the same ingredients as last year's successful event: A lecture titled "Master Umami, Transform your Food," by an umami specialist.
About 40 participants gathered to listen to Dr Ninomiya's introduction to the umami taste, the umami compounds and their presence in foods. When Dr Ninomiya asked whether her audience had ever heard about umami, most of the participants answered that they had. However, when asked to explain the taste, the room became a lot more hesitant. Next she showed photographs of four dishes: mushroom duxelles, jus de truffe, deglace, and aged Comte cheese. She then invited the audience to explain their taste: "Could you explain their taste with only the four basic tastes: sweet, sour, salty and bitter?" A student answered that it was a combination of those tastes. Dr Ninomiya then explained that the dishes all have umami in common. With this opening, she moved onto a demonstration with dried tomatoes. The lecture was very interactive with many questions. As per usual students were invited to taste different types of vegetable soups to get a better grasp of what was the umami flavour, on its direct effects on our food, digestion and our satisfaction.
This talk was followed by the demonstration of two great chefs: Tadashi Yabe, executive director of the Costes hotel in Paris, and Keiko Nagae, chef patissiere, who after working with chefs Pierre Gagnaire, Yannick Alleno and Michel Troisgros, opened her very own consultancy in patisserie "AROME" in 2012. Chef Yabe with two exquisite recipes around scallops and foie gras demonstrated with talent and grace the depthless umami can give to savoury dishes. When Keiko Nagae with her Parmigiano based ice cream and tamarillo (or tree tomato) based sorbet that umami can without doubt find its place with subtlety in delicate desserts.
Chef Yabe did not forget to emphasize that deliciousness doesn't come from only umami, the integration of other factors such as aroma and texture, as well as balance, are crucial. Chef Nagae mentioned that especially for a dessert in a full course menu, she uses less sugar and adds umami rich ingredients instead to give a meal a fresh and light note to close the meal.
All students agreed that not only this umami session was a feast for the eyes but the recipes were delicious and had this "je ne sais quoi" that umami brings and gathered after the demonstrations to talk to the chefs and hear their understanding of Umami. After this day the UIC is confident that the participants will know exactly what umami brings to our dishes: a uniqueness making the umami experience unforgettable.

The Umami Information Center strives to continue delivering its umami knowledge to students and cooking schools faculties to enrich tomorrow's culinary world.