Umami Lecture at MISTURA, Gastronomic Festival in Peru
September 2016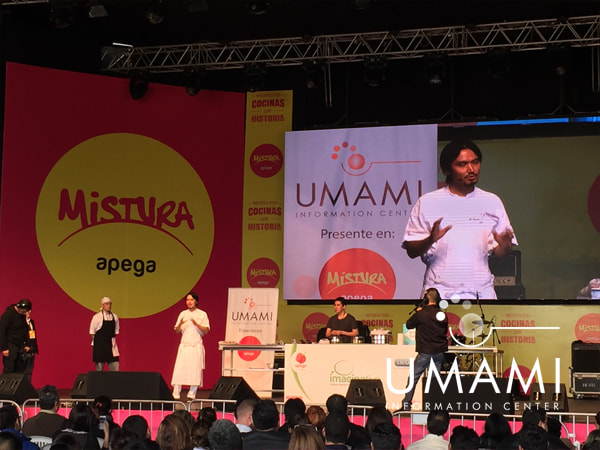 Date:September 8th, 2016

Venue:Lima, Peru

Lecturer:Mr. Shinobu Namae (owner chef, L'Effervesence, Azabu, Tokyo)

Presentation Title:"Miracles of Nature, Chemistry in Your Mouth"

Reporter:Mio Kuriwaki, Umami Information Center
ISTURA, a world-famous gastronomic fair was held in Lima, the capital of Peru, from September 2nd 2016 through September 11th. MISTURA means "mixture", which is named after the great diversity of ingredients and cuisines, as well as the mixture of races and cultures of Peru. World famous Peruvian chefs founded this fair and this is the 9th year. Not only are plenty of Peruvian ingredients and cuisines introduced, but also top chefs from all over the world demonstrate their philosophy and skills, exchange and create new things. This is the reason why MISTURA draws attention worldwide.
Umami attracts much interest from the Peruvian culinary field, and the Umami Information Center was requested to arrange a presentation on umami. Shinobu Namae, the managing chef of L'Effervescence, kindly accepted our offer to share his thoughts on umami.Chef Namae opened his restaurant "L'Effervescence" at Tokyo in 2010 after receiving training at high-end French restaurants in France and the UK. His philosophy is to use Japanese local products that he has carefully selected. His presentation is entitled "Miracles of Nature, Chemistry in Your Mouth", and it started with numerous pictures of terrain and producers of the umami ingredients kombu and katsuobushi that Japan is known for throughout the world. He gave an explanation about the synergetic effect of glutamate of kombu and inosinate of katsuobushi. In his last part of the presentation, he demonstrated his original recipe of chawanmushi, a salty egg-custard.
Thanks to great support of Chef Hajime Kasuga and Chef Diego Gutierrez, Chef Namae's presentation was appreciated with sympathy from Peruvian people who have a similar food culture, which is blessed with rich foods from the sea and mountains. He also introduced umami ingredients that he found on his first trip to Peru. About 400 people applauded his scientific and culinary presentation.
Here is a message from Chef Namae:
Peru is blessed with a similar terrain to Japan, extending north to south with a humid climate from the oceans to the mountains. I made a presentation on the theme "Oceans, Moutains, Rainfall, the Sun and Diversity," which is shared by both Japan and Peru,
so that participants could have a common response. I think the culture of the Japanese soup stock "dashi" is born from a meeting of nature and science, northern kombu and southern katsuobushi. I hope that my story will provide the Peruvian culinary world with some ideas.
Umami Information Center continues to deliver information on umami in Peru, which attracts interest from around the culinary world, and various places in Japan and overseas.