Support for Umami Workshop in Penang, Malaysia
November 2016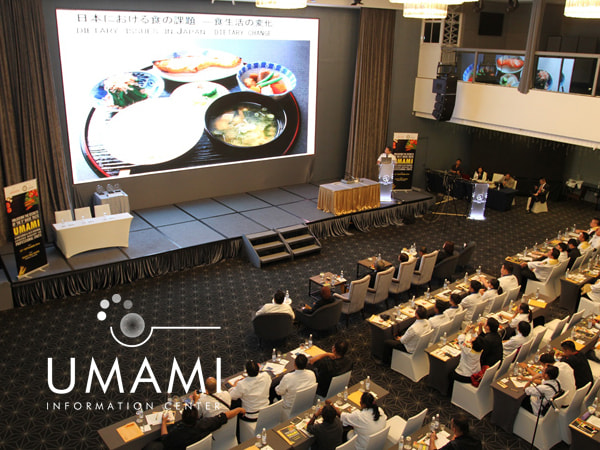 Unlocking the secrets of the Fifth Basic Taste Umami, A food Science and Taste Sensorial Experience
Date : September 28th, 2016, 12:30-17:00
Venue : Olive Tree Hotel, Penang, Malaysia
Organizer : Malaysia Ajinmoto Berhad.
Co-Organizer : Penang Chef Association, Umami Information Center (NPO)
Reporter : Kumiko Ninomiya, Director, Umami Information Center (NPO)
"Unlocking the Secrets of the Fifth Basic Taste UMAMI, A Food Science and Taste Sensorial Experience", which is an umami workshop targeting 200 chefs and culinary school students, held at the Olive Tree Hotel in Penang, Malaysia on September 28th, 2016.UIC dispatched Chef Mitsuru Saiki, owner of Kyo-Ryori Jikishinbo SAIKI who is active mainly in Kyoto. He talked about what "washoku - Japanese cuisine" is and what umami and dashi are. In addition, he communicated the health-effects of washoku to participants.
As for the westernization of the Japanese diet, Mr. Saiki communicated that without feeding washoku during the weaning period, the westernization of the diet will be accelerated and he talked about the importance of offering children the experience of dashi and umami through dietary education. Mr. Saiki visited the venue the day before and prepared tasting samples and dashi. Students from Penang culinary school helped him to prepare. They carefully confirmed the preparation of tasting samples, pouring dashi into tasting cups and checking necessary utensils and ingredients.
Students who supported chef Saiki were excited to see Saiki's cooking, such as how to brew dashi and how to peel yuzu. They learned how the taste of dashi changed in the process of heating kombu for an hour keeping the dashi temperature around 60℃, how kombu absorbed water and became tender by heating, how katsuobushi transforms the taste and flavor of dashi. They experienced what Japanese dashi was by tasting and smelling it using all five senses. Without their support, we could not have provided dashi and a clear soup of Hamo tasting to all the participants.Chef Saiki gave the following remark: Any dish isn't good if it is too delicious. The most important factor is the balance of taste, smell and texture. A dish with too much umami doesn't taste good."Outside of the venue, umami soup was served during the intermission. Comparing soup with umami and one with less umami, participants experienced umami's effect deepening and enriching the taste of the soup.