Essence of WASHOKU in a Healthy Diet
March 2017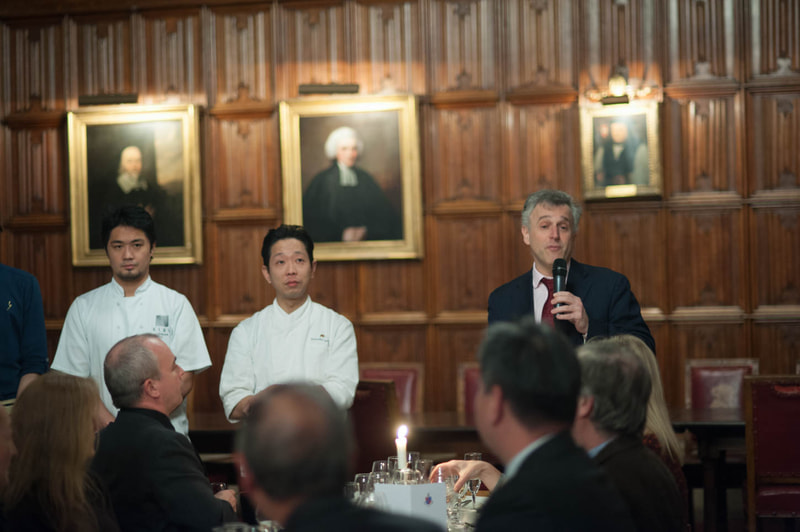 Date :January 21st, 2017
Venue :Corpus College, Cambridge University
At a dining hall of Corpus College, Cambridge University, a dinner featuring WASHOKU was held on January, 2017. Thanks to Professor Barak Kushner from Faculty of Asian and Middle Eastern Studies of the college, the Embassy of Japan in the UK organized this dinner. Japanese Cuisine Academy, UK which was organized by Japanese chefs who play an active part in the London culinary field and Umami Information Center supported the dinner. About 70 people including faculty and students from Cambridge University and journalists enjoyed the first Washoku dinner at the college.
Washoku and Umami
Dashi characterizes Washoku. Only Japanese cuisine uses dashi, pure umami water, as soup stock in the world. Western soup stock contains various components from meat and vegetables and brings a more complex taste than dashi. The relationship with umami differs in Japan and the Western world. However, along with progress on understanding of washoku, more people are paying attention to the umami of dashi mainly for health reasons since it keeps its deliciousness with a reduction in salt and fat.
Message from Chef Hayashi
Oil free, butter free and cream free are the concepts of today's recipe. With no fat, umami makes a healthy and filling dish possible. The vegetable bouillon made of dried tomato and Marmite, a British traditional umami paste, also enable households to realize such a dish.