Science of umami taste - Adaptation to Gastronomic Culture. Ochanomizu University's Summer Program 2021
July 2021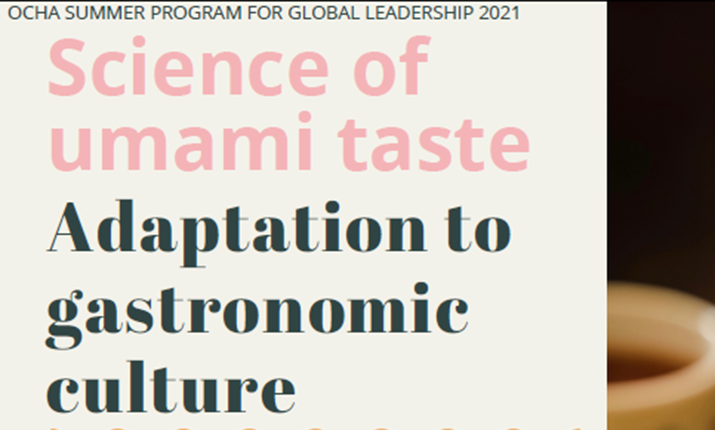 The online classes, which have spread rapidly in many universities, allow the students to attend the lectures from anywhere in the world.
On July 16, the Umami Information Center conducted an online umami lecture for "Summer Program 2021" hosted by Ochanomizu University.
Ochanomizu University's Summer Program is an annual special course in which students from the university study together with the students from overseas partner universities. Every year, leaders in various fields are invited as the speakers. Following the previous year, the program was conducted online in 2021.
Dr. Kumiko Ninomiya, a consultant of the Umami Information Center, was invited as a lecturer for the Culture Society Course of the program and gave a lecture titled "Science of umami taste - Adaptation to Gastronomic Culture"
In her lecture, she introduced the basics of umami including the history of the taste used in the Japanese food culture. And she explained the comparison of gastronomic cultures amang Japan, other Asian countries and Western countries.
She also showed how chefs around the world use umami in their own styles. Nowadays umami is contributing to "healthier and tastier dishes" such as low sodium diets and plant-based cooking.
The lecture was attended by 66 students from 12 countries including US, Europe, Asia and South America.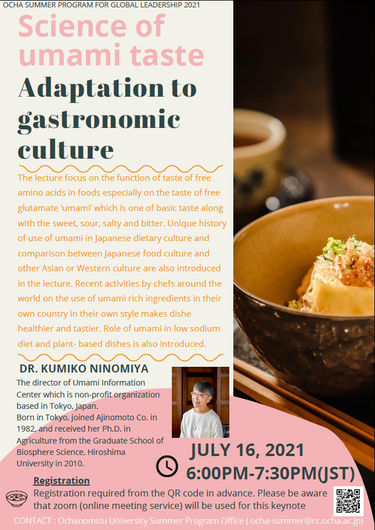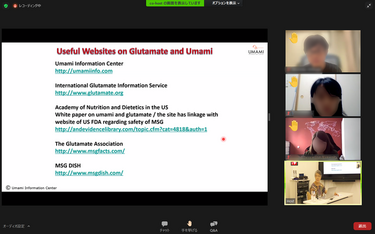 They gave many questions to Dr. Ninomiya during and after the lecture.
"Are there any dishes other than soups that are rich in umami?"
(Answer: simple grilled meat dishes such as beef, chicken, and fish are rich in umami. Grilled chicken is especially high in umami).
"How was intensity of umami measured?
(Answer: The trained sensory panels were participated in the sensory evaluation).
"What kind of products could be available outside of Japan?"
(Answer: The products containing umami can be purchased overseas as umami seasonings 'MSG'. MSG is also used in products such as flavor seasonings in various countries.)
These questions showed the high level of interest of students in umami.