The Webinar for US chefs – Umami and Shojin Ryori
February 2022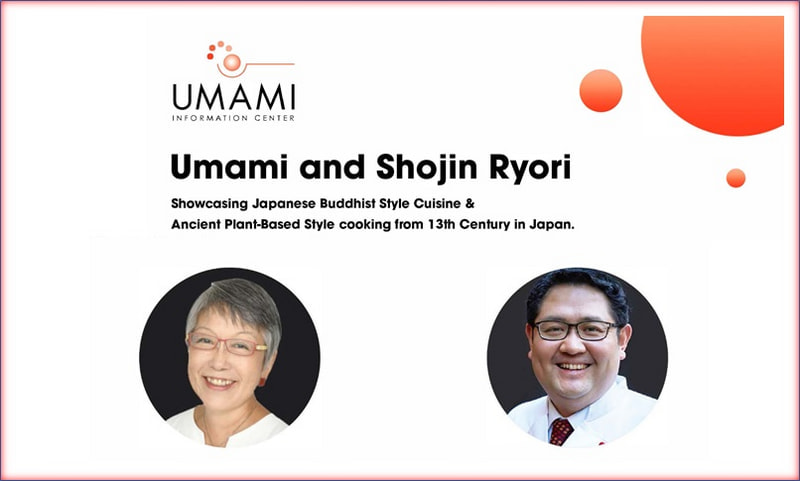 Today, the culinary field is globally focusing on plant-based foods, because they are sustainable and ethical. In Japan, however, shojin ryori – the traditional vegetarian dining style of Buddhist monks has been practiced since the 13th century, long before this movement took off.
On February 21, 2022, the Umami Information Center (UIC) had a webinar for chef's association of the US on shojin ryori and umami, the taste behind this vegetarian cuisine. The webinar, titled "Umami and Sojin Ryori" featured UIC consultant Dr. Kumiko Ninomiya and Chef Daisuke Nomura, the owner of shojin ryori restaurant Sogo, Tokyo.
The webinar consisted of two parts: the first half was a lecture on umami and shojin ryori by Dr. Ninomiya, and the second half was a demonstration of the cuisine by chef Nomura.
Dr. Ninomiya explained the science of umami. She noted that umami is being utilized by chefs around the world and introduced the words of Chef René Redzepi of the world-renowned restaurant Noma, Copenhagen. "By understanding the concept of Japanese food and utilizing dashi and umami, it has become possible to reduce animal fats and oils and salt. The dishes are lighter, but the taste becomes complex."

Then she explained the history and characteristics of shojin ryori, which was developed as a diet for Buddhist monks to prevent killing animals. She introduced the basic rules of shojin ryori, such as using up all the ingredients without wasting any, and balancing nutrition by arranging five different colors. She noted the secrets of this traditional vegetarian cuisine, which uses umami, dashi, and various cooking techniques to create delicious dishes without using of animal products.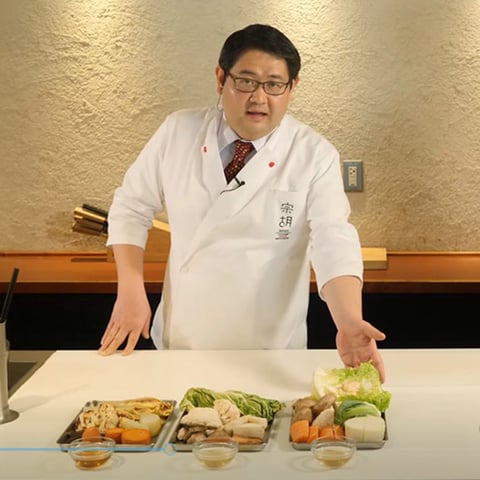 Chef Nomura demonstrated shojin ryori cooking. He introduced three types of broth made from roasted, dried, and raw vegetables as the base of the dishes. With the broth, he cooked shojin ryori dishes using tomatoes, potatoes, and other vegetables that are easily available around the world. Chef Nomura showed that umami can be used to make delicious and satisfying dishes without meat.
"The spirit of shojin ryori, which uses vegetables without wasting them, is the same as the idea of sustainability.", he said. "The delicate umami of the vegetable broth is used as a base for balancing the tastes, so the dish is basically light and low in salt, and healthy."
He prepared three dishes deftly and attracted 80 chefs who took part in the event.
The post-webinar feedbacks were also favorable. The webinar conveyed to chefs the appeal of shojin ryori as a plant-based food and the umami that supports it.
The webinar can be viewed on the official UIC channel on YouTube.
https://www.youtube.com/watch?v=oLzLQdUKAiI&t=0s