The Umami Future Session 2022 – Report II
March 2022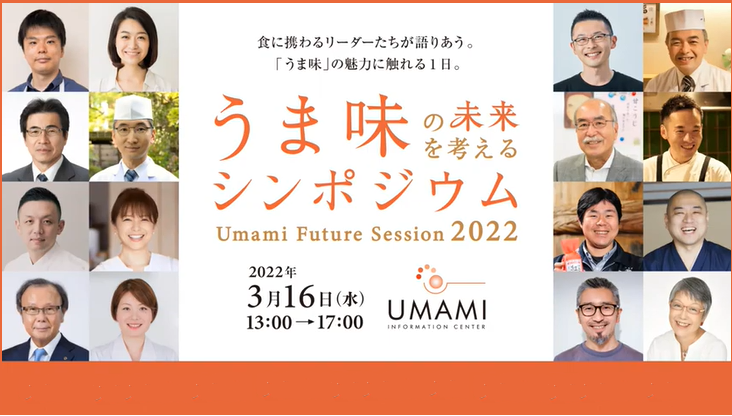 This is the second part of a report on "Umami Future Session 2022" which was held online on March 16, 2022. At the event, professional chefs, cooking experts, academics, producers, and other leaders in the food industry gathered across professions to discuss "umami" from their working situations and deepened their understanding of umami.
Session 3: The World of umami, expanding with fermentation 
Panelists: Mantaro Takahashi (Coordinator: shoyu wholesaler) 
Katsuhiko Kitamoto (Specially Appointed Professor of Nihon Pharmaceutical Univ., Ph.D.) 
Naoki Kohno (Vinegar, Miso, Shoyu producer) 
Yusuke Misumi (Mirin producer)
Japan is home to a variety of fermented seasonings that bring umami to Japanese cuisine. In the production of these seasonings, koji-mold (aspergillus oryzae ) plays an indispensable role.
Koji-mold is designated as a "national fungus" by the Nippon Jozo Gakkai (Brewing Society of Japan).
The production method of fermented seasonings using koji-mold is unseen anywhere else in the world.
Japanese producers of fermented seasonings carefully treat koji-mold as if they were raising farm animals so as to preserve their traditional flavors.
In the session 3, the panelists including producers and wholesalers of the fermented seasonings such as vinegar, miso, shoyu, mirin discussed the appeals of umami and fermented seasonings with a researcher of microbiology of sake yeast and koji mold for sake making.


Session 4: How to use umami to make dishes more delicious 
Panelists: Hayahisa Osada (Coordinator: Chef of Itto, a Japanese cuisine restaurant)
Mitsushi Iwamoto (Chef of Domenica D'oro, an Italian restaurant) 
Kakuho Aoe (Buddhist monk, representative of the workshop Dinner in the Dark) 
Kumiko Ninomiya (Umami researcher, UIC consultant, Ph. D.)
Chefs from different fields - Japanese, Italian, and shojin ryori (Buddhist meal) - discussed with a scientist how umami is utilized in their cuisines.
Each cuisine has its own characteristics - Japanese technique of adding taste of the ingredients little by little to dashi with simple and delicate umami, and finishing it with the seasoning like soy sauce or miso, the western techniques of creating bouillon with strong umami and complex flavors and diluting it to finish the dish, and the philosophy of shojin ryori, which is to use up all ingredients with gratitude and without waste - the thought and action connects to SDGs.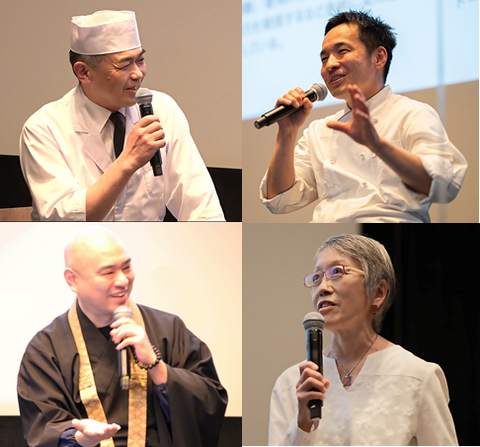 The scientist shared the scientific insights on the umami that each cuisine has and the current status of umami utilization by chefs around the world. Dr. Ninomiya reported that some overseas chefs have recently started to create their own fermented foods from ingredients that are familiar to them and use them in their cooking.
"Some chefs use coffee beans and hazelnuts for homemade miso and other fermented seasonings." Dr. Ninomiya said. "They have found that using fermented seasonings makes their dishes umami-rich without simmering long time and with less salt." She reported that umami and fermented seasonings are becoming a global seasoning with methods beyond the Japanese idea.
Over 300 people enjoyed a talk about the appeal of umami.
The video of the Umami Future Session 2022 can be viewed at the following URL.
https://www.umamiinfo.jp/movie2/ufs