Online Lecture "Umami substances that enhance koku of food - how to utilize them in cooking"
September 2022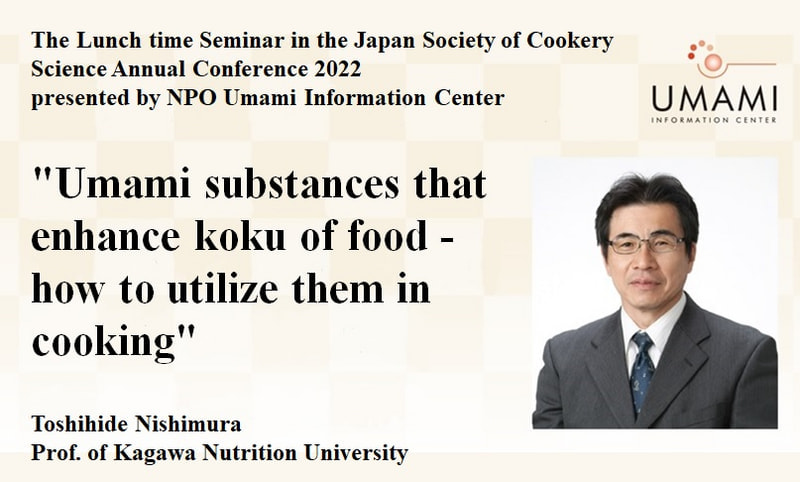 The 2022 Annual Meeting of the Japan Society of Cookery Science, which brought together people who study cooking science, was held in hybrid, on September 2 and 3. The Umami Information Center (UIC) sponsored a lunchtime seminar on September 3, where Dr. Toshihide Nishimura, the Vice President of UIC and a Professor of Kagawa Nutrition University, gave an online lecture titled "Umami substances that enhance koku of food - how to utilize them in cooking".
Prof. Nishimura began his lecture by introducing some expressions that are often mistaken when talking about food, such as the Japanese word umami, which is a homonym for the basic taste "umami" and "deliciousness".
Furthermore, he introduced, based on specific data, that adding umami substances affects not only the taste but also the sensation of aroma of foods, and that while "umami substances" contribute to the deliciousness, adding too much umami substances may spoil the taste, so it is important to use just the right amount like other seasonings of basic tastes.
Then, on the main topic of the lecture, "Relationship between koku and umami substances," the professor shared the definition of "koku" and introduced the three elements contributing to koku (Fig. 1) and the points that can be used in actual cooking.
After the lecture we received many feedbacks from the participants that they would like to learn more about umami and the relationship between umami substances and koku, and that they would like to make use of this information in their cooking.
The Umami Information Center will continue to provide scientific evidence-based information on how umami and umami substances can contribute to our diet and health.
The content of the lecture and the UIC web page "Incorrect Expressions Concerning Deliciousness of Foods", which was introduced in the lecture, are available at the following URL.
The Lunchtime Seminar presented by UIC in 2022 Annual Meeting of the Japan Society of Cookery Science (Japanese only)
https://www.umamiinfo.jp/movie2/umamiwebiner/jscs/
Incorrect Expressions Concerning Deliciousness of Foods (Japanese only)
https://www.umamiinfo.jp/what/expression/