The Umami Lecture at Niigata Cooking Technical School
October 2022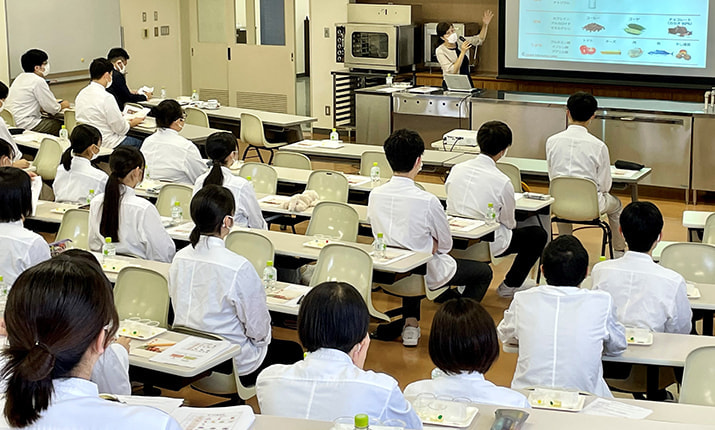 The Umami Information Center (UIC) held a lecture to learn about umami at Niigata Cooking Technical School (NCTS) on October 4.
NCTS is a culinary school that has produced many professionals working in the food industry, including chefs and service staff. Ms. Akiko Sawa, a director of UIC, gave the lecture to 70 students.
She explained the basics of umami, including its discovery and scientific characteristics such as the umami synergistic effect. During the lecture, she let the students experience a variety of tastings on ingredients that have umami in it, and dashi. The students, who are studying to become chefs, grasped and remembered the differences of dashi and the effect of adding umami substances with their own tongues.
After the lecture, UIC received the feedbacks from the students. "It was a valuable experience," "I could clearly feel umami as I actually experienced it." and "I could clearly feel the umami synergy when I combined kombu dashi and katsuo dashi.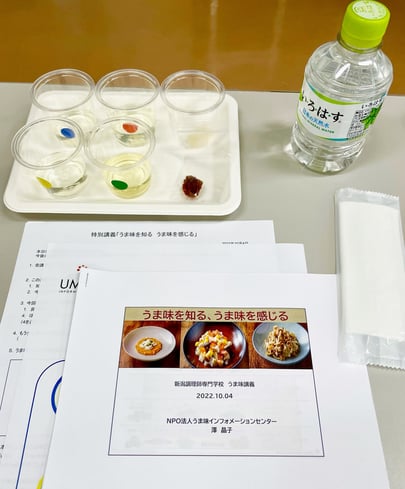 UIC wishes that the experiences gained in this lecture will provide the NCTS students with hints for creating their own flavors.