The Japan Society of Cookery Science Annual Meeting 2023
September 2023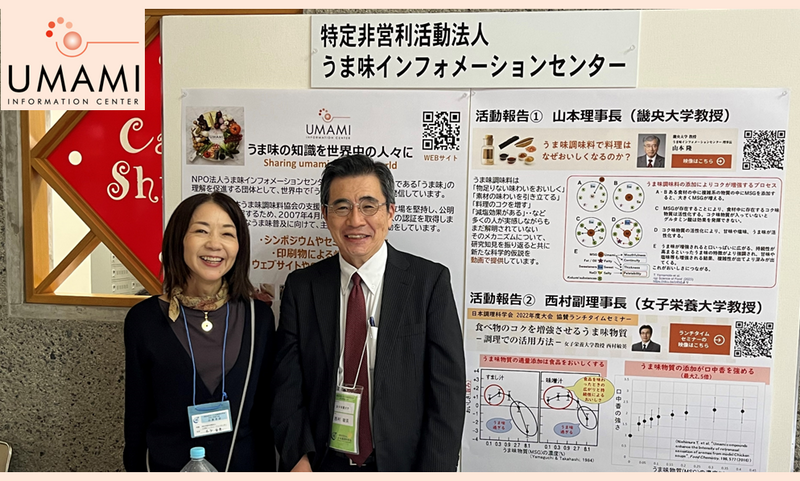 On September 9-10, 2023, the Umami Information Center (UIC) participated in the Japan Society of Cookery Science Annual Meeting 2023.
The congress was held under the theme of " Uncover and Co-create the Complexity of Palatability - Culinary Science for Sustainability on Foods." After online events by Corona, it was held fully face-to-face for the first time in four years, at Prefectural University of Hiroshima.
Approximately 500 of culinary science researchers gathered for the two-day congress. They participated in the scientific lectures, the seminars, and the poster sessions presenting the latest research findings.


On September 10, the second day of the congress, Dr. Toshihide Nishimura, vice president of UIC and a professor at Kagawa Nutrition University, delivered an open academic lecture.

In his lecture titled "The science of koku that makes the food palatable- the generation mechanism and utilization in cooking", Dr Nishimura explained the deep relationship between umami and koku with new insights from cookery science.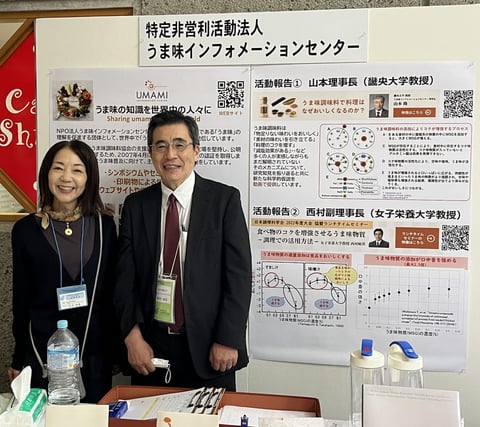 Dr. Nishimura also explained that the Japanese word "umami" is a homonym with two meanings: "umami, the fifth taste" and "deliciousness." He requested the participants that the correct usage of the word would be taught in the university lectures. Approximately 400 people, mainly from universities, attended the lecture. They listened very carefully and engaged in a lively Q and A session after the lecture.
UIC had an exhibition booth at the congress which more than 100 people visited in two days. To promote correct understanding of umami, UIC distributed umami booklets, leaflets and other printed materials as samples and appealed the visitors to use them as textbooks in their classes.UIC also displayed posters on "the relationship between umami and koku" and other information of our educational video materials. Many stopped in front of the poster displaying a figure taken from Dr. Nishimura's paper, especially after his open academic lecture on September 10. The visitors looked at the poster with great interest, saying, "That's the figure the professor just mentioned in his lecture!"