A scientist and a chef met to discuss the wonders of umami and dashi
December 2022
One of the characteristics of washoku, the Japanese cuisine is that it respects for varied and fresh ingredients and their natural flavors. What makes that possible is umami rich dashi, the Japanese soup stock.
Dashi is made from dried food ingredients such as kombu, katsuobushi and dried shiitake which contain rich umami substances. When the components of Japanese dashi are analyzed, you will see that umami substances are outstandingly high in every dashi. Umami is suitable to make the best use of natural flavors of the food ingredients.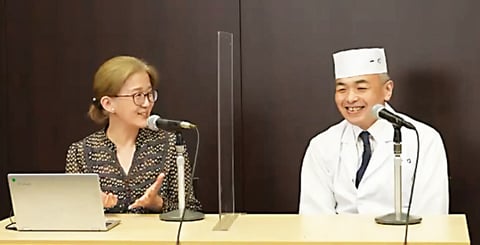 In 2022, the Umami Information Center has taken various actions focused on Japanese dashi culture to disseminate the wonders of dashi and the umami components in dashi.
In June, UIC conducted a webinar, "Umami and World-Famous Japanese Dashi & Washoku"
The speakers were Chef. Hayahisa Osada, an owner chef of the Japanese restaurant Itto, and Dr. Nami Fukutome, an associate professor at Tokyo Seiei College and a UIC member.
They introduced the science, the characteristics and the history of dashi and umami, taking up the typical dashi, that is, dashi of kombu, katsuo, dried sardine, vegetables and shojin dashi. Delicious recipes that make the most of each dashi were also introduced.
A video of the webinar is posted on the UIC website.
https://www.umamiinfo.jp/movie2/umamiwebiner/
In November, UIC collaborated with TOPPAN INC. to publish a new article, "THE POWER OF SHUN - Japanese Food Culture, Washoku, Based on Dashi and Umami," on their website SHUN GATE(*), which introduces the appeal of Japanese food culture inside and outside Japan.
The two specialists appeared in this article again, and talked about the science and history of dashi, as well as recipes that make the most of its deliciousness.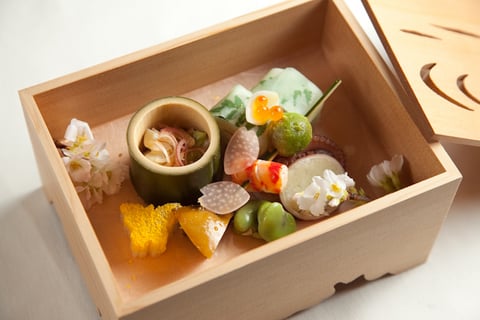 Washoku, the Japanese cuisine, is attracting worldwide attention.
UIC hopes that more people around the world will learn about the appeal of dashi and umami that form the core of washoku.
*SHUN GATE is the website which disseminates worldwide the stories of the people, the techniques, technologies, and the lands that make up "SHUN", the period of time in which raw ingredients taste the best. Operated by TOPPAN INC., SHUN GATE provides its articles in Japanese, English and Chinese.
THE POWER OF SHUN – "Japanese Food Culture, Washoku, Based on Dashi and Umami"
Japanese: https://shun-gate.com/power/power_100/
English: https://shun-gate.com/en/power/power_100/
Chinese (traditional): https://shun-gate.com/zh/power/power_100/