The chairman of UIC held a lecture at an international symposium, Korea
June 2023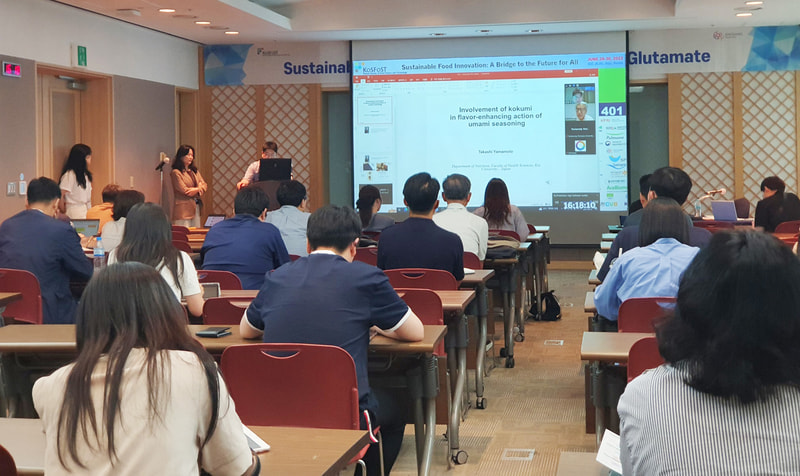 On June 29, 2023, Dr. Takashi Yamamoto, the chairman of UIC and a professor at Kio University, had an online lecture at 2023 KoSFoST International Symposium.
KoSFoST, Korean Society of Food Science and Technology, is a nonprofit scientific association in the field of food science and technology. From June 28 to 30, KoSFoST held an international symposium under the theme "Sustainable Food Innovation: A Bridge to the Future for All", which included intensive technical and educational sessions on a wide range of topics by leading domestic and international industry experts.
At the request of KoSFoST, Dr. Yamamoto had a lecture titled "Involvement of kokumi in flavor-enhancing action of umami seasoning" based on his latest paper (*1) published in Science of Food in 2023.
40 people attended his lecture – the professionals, the students and people from industries in the field of food science and technology. They listened earnestly to Dr. Yamamoto's explanation of the mechanism behind how umami seasonings make foods tasty, and how umami substances and kokumi substances work together in foods.
(*1)T. Yamamoto and C. Inui-Yamamoto. The flavor-enhancing action of glutamate and its mechanism involving the notion of kokumi. Science of Food (2023)
Related page
"New video - Closing in on the mechanism of how umami substances make food palatable"
https://www.umamiinfo.com/topics/2023/04/new-video---closing-in-on-the-mechanism-of-how-umami-substances-make-food-palatable.html